Whenever we come back to Seattle for a visit, I try to run all my favorite routes. I never get to run everything because Seattle is filled with gorgeous runs and even a week isn't enough time to see it all. Although my neighborhood route doesn't showcase all of Seattle's running beauty, it's the one route I make sure to do each time I'm back. Ah… memories!
Yesterday we were dealing with a steady, heavy rain most of the day in Seattle. I forgot to pack the weather shield for the BOB stroller (how did I forget this for Seattle?!) so I knew I would have to wait out the rain. Around 3pm I spotted a break in the clouds and immediately threw on my running gear and ran out the door.
We ran from the University District to Green Lake via our "green belt". I love this grassy stretch that runs between 2 lanes of NE Ravenna Blvd. I used to run it every day and never grew tired of it.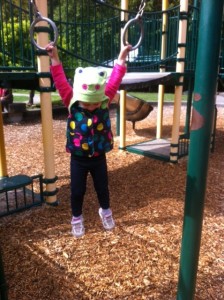 After stopping at playground number #1 at Green Lake, we ran to Ravenna/Cowen Park where we found playground number #2 and played a short while. Normally, I wouldn't stop at a playground until the end, but this was just supposed to be an easy, possibly pre-race run so I figured we could make a few fun stops. The little lady wanted to run so I pushed the empty stroller and she ran beside me the whole distance of the Ravenna/Cowen Park trail! We went back to the hotel on the Burke-Gilman trail and I started to realize I underestimated the length of the run in my head. I was feeling pretty tired and looked at my phone to see we were gone for 2 hours (playing, running, last half mile walking).
It looks like I'm going to race the Fremont 5k today! Should be fun. I'm excited both to race, and have it be a race in Seattle!
Are you racing this weekend? Do you run with a stroller and let your kid(s) get out and enjoy some playtime mid-run? Do you love running in cities where you used to live?