Well, I guess last weekend was exciting enough to have a very lame week of running.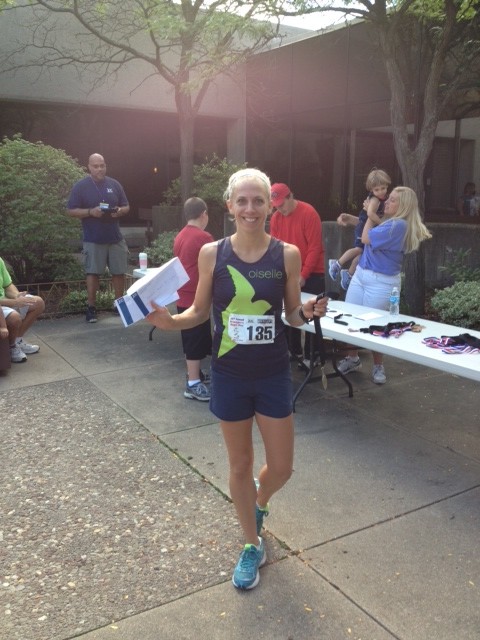 After a race, I like to give my 31-year-old-self at least 2 days to recover. Since I "raced" Friday and again on Sunday, I knew Monday and Tuesday would definitely be easy days. On Monday, I felt surprisingly good. It was one of those days I wanted to run forever! Those days always seem to coincide with the days I am on the biggest time-crunch of the week. I took what I could get and completed a few glorious miles.
On Tuesday I was reflecting on 9/11/01 and totally zoned out most of my easy paced run. With 3 miles to go, I found myself within 10 feet of a large buck. I kept yelling "go buck"! It was not as much fun as the day I ran into 2 bucks on the trail and yelled "Go Bucks!", but it did help lighten my mood.
Wednesday was supposed to be a workout. I set my alarm for VERY early. My daughter woke up 10 minutes before that so I was on child duty. I decided to do the workout that night when Jeff was home from work. Unfortunately, I ate something that didn't agree with my stomach so Wednesday turned into another easy run.
Thursday was going to be a workout for sure. I set the alarm early again, and my little lady was up early AGAIN! So, a medium length trail run with the stroller took the place of speed.
Currie and I are headed to the beach on Sunday morning so I'm doing my long run on Saturday. I figured today might as well be another easy run then I'll hit the long run hard with a few quality miles mixed in tomorrow. During my easy miles today, I added 7×100 meter strides on the track. I had to remind my legs they were fast before tomorrow's run!
What do I do when I am forced to run easy when I planned to do speed? Run with my phone and hope to see something entertaining! Here are a few things I saw.
That was my week of running! I was trying to find a race for tomorrow (Saturday) before we leave for vacation, but I couldn't find anything too exciting so I'm sitting this weekend out of the racing scene.
What's going on in your running world this weekend? Have you ever seen a fancied-up tree?