I got another win today, but it came very easy so there wasn't much glory!
Let's start at the beginning. I was invited by the race director to run the Casa Larga Race for Grapes 5k "Peoplechase" (I got a free entry). The race was at a local winery, Casa Larga, and I was a little hesitant to run it because of the "peoplechase" concept. The women start at 10am and the men start at 10:03am. This gives the women a 1 minute per mile head start over the men and awards are given in the order people cross the finish line, male or female. So, the men are chasing the women down the whole race.
It's a cute idea in a way. In high school my coaches would tell me the best guys would be about a minute per mile ahead of the best girls so I could gauge my performance on that. Turns out, that advice might be an "ok general rule", but it easily places people in boxes of where they "should" be finishing and I don't like sticking people in a box.
I can compete in the top 10 overall at most local races, and don't need a head start.
I need competition to race well, and with this being a small race, I knew the chances of fast women showing up wouldn't be good so I wanted to start at the same time as the guys.
I decided to do the race because:
I checked the forecast and the weather looked good, 50s and sunny.
Our friends live close to the race site and we planned to have lunch with them afterwards.
I figured it would be a good workout.
I had my usual pre-race meal. Pasta! I added bell peppers and "asian greens" from our CSA. I have no idea what the actual name of the greens were, but they were pretty bitter (still tasty).
If you can tell what they are, I'd love to know!

And no, they are not bok choy, as google tried to suggest, though we got some of that too.
I woke up this morning to a downpour, an upset stomach, a kink in my back and a strange ache in my heel. I got online to read about the race and saw last year's winner was over 22 minutes (5k distance). I briefly considered staying home and going back to bed, but my love for racing took over and I decided to go. I drank about half a cup of coffee with my usual almond butter sandwich, but my upset stomach just wasn't liking the coffee so I dumped it. I downed some water, packed up my stuff and family and noticed the clouds were clearing. We headed to the race.
Number pickup and restrooms were quick and easy. I got my t-shirt and started my warmup, which was running the course so I would know which way to go. I was also wondering about this "challenging course" I heard about.
The course was hilly, but it was out and back, so for every uphill there was a downhill. It was sort of in a Y shape, so you went out a little over a mile, then went down a no outlet road and back, then out another no outlet road and back, then back to the start. I'm simplifying the course here, but that's the approximate shape.
I guess if you think hills are really challenging, then yes, it was a challenging course. For me, hills really help break up a course that might otherwise be a little… uh boring… so I really enjoyed them.
The race went like this. Women started at 10am. I guess the men started exactly 3 minutes later. By the first half mile, I had a really good lead and by the one mile the lead car stopped leading me and went to the second place person. The out and back style is nice because runners can cheer for each other along the way. I said some sort of "good job" to every person I saw and most did the same back. It really had me smiling the whole time.
I actually raced in my Garmin since I was doing miles before and after to make this a longer mileage day. My first mile was 5:59, second 5:59, last 5:59, (so cool!) and finished somewhere around 18:50. This is much slower than my usual 5k pace, but with the stomach problems I woke up with and knowing competition was going to be slim, I told myself I was going to really enjoy the scenery and people, and make it more of a 6 min/mile tempo run. Looks like my body knows a 6 minute mile! I came in first overall, by almost 3 minutes. 2nd and 3rd place were men. 4th place was the next woman.
The race was SO MUCH FUN! I don't think the hills really slowed my time much. I was taking it easy so I wouldn't discourage someone from racing based on the "challenging" aspect. That being said, my hamstrings were sore within 2 hours, so the hills were definitely there. I don't get sore like that very often!
I was very confident that I would get at least a bottle of wine for winning and breaking the course record. I thought I would potentially get a case of wine. Instead, I got these: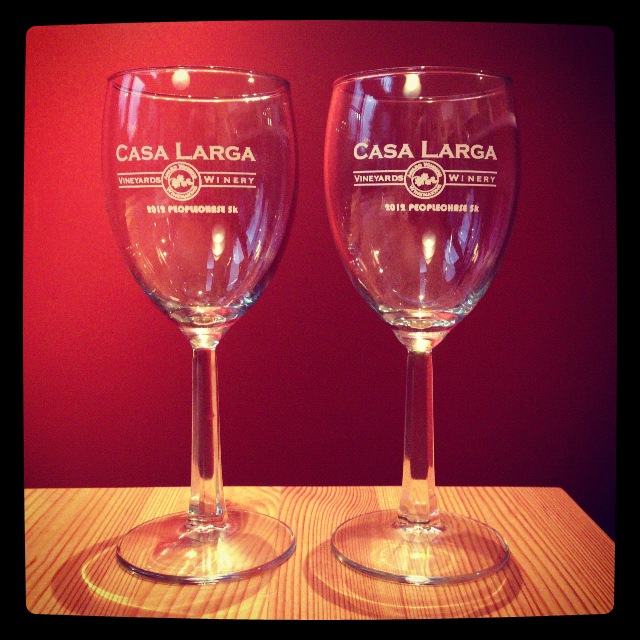 Positives:
Out and back course good for cheering competitors.
Quite a few spectators for a small race. All very supportive and energetic.
Currie did such a great job cheering for me today. She yelled "go mommy, you can do it mommy!" so many times in a row! I love when she gets excited about my racing!
Pumpkin maze for the kids!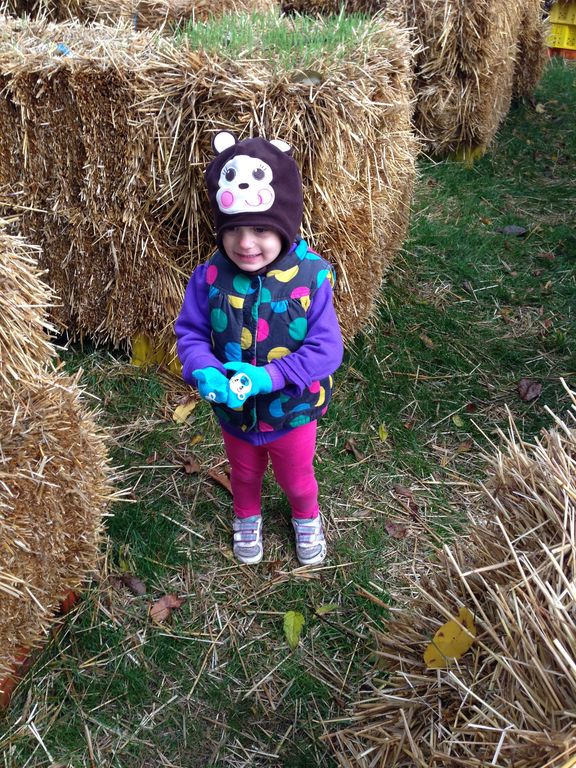 Negatives:
Not good competition – not a PR race!
Stomach issue I woke up with and monster sideaches for entire warmup and first half mile of race. (heel pain went away and was able to stretch out the back pain to almost gone by race time)
I'm glad I raced today, and very happy to have my family there supporting me! On to the next!
Did you race this weekend? How did it go? Any idea what the asian greens are and how they should be properly prepared? What do you think about the peoplechase concept? Have you ever run an entire race smiling?