Wow, I'm very behind on the blogging/social media scene. I've been in Ohio with my in-laws doing some fun family/friend stuff, and just arrived at my parents' for some more fun family stuff (including babysitting my sweet little niece!) so life has taken precedence over all online activity. Today I have a little bit of time so HELLO! I'm back! Time to talk about the lead-up to my weekend race.
The Columbus Marathon is my favorite race. I had my PR marathon there, and I had my biggest blow-up marathon there – still loved the race afterward. This year I decided to run the half marathon for the first time.
I approached this race as a "training run". This initially felt very hypocritical to me because one of my pet peeves has always been when runners say "I'm not racing it, just using it as a workout." I always think, "why wouldn't you just run your hardest?!" I'm starting to realize there are major benefits to running hard, but not your hardest, with thousands of other people (in my case, 18,000 others).
The main reason I decided to do Columbus as a training run is quite frankly, I'm not in peak shape right now. I'm not in contention for money making. What I really need are some good solid workouts that make me feel confident about the rest of my racing for 2012. I need to work on a few aspects of racing, one being marathon fueling, pacing, working out stomach issues. I need to get a few long, fast runs completed. What better way to accomplish everything than in a race atmosphere?
Saturday pre-race:
I didn't taper do a real taper for this race. I did a one-day-taper, meaning I ran regular mileage* all week until the day before when I ran 3 miles.
I have the asterisk after regular mileage above because there has been nothing regular about my miles lately thanks to crazy life. My mileage for the past 4 weeks went like this:
40 miles: no workouts
30 miles: no workouts – bad "life" week for me
60 miles: 2 miles of speedwork (2 x 6 min mile), other miles easy
52 miles: 1 day of speedwork alone, Columbus Half speed, other miles easy
Back to Saturday. After 3 miles of running, I showered and met my brothers and their ladies at Spaghetti Warehouse then carpooled over to the expo. Talking to my brothers about pacing strategies, I immediately knew the decision to use Columbus as a training run was a good idea.
It was SO GOOD to see my brothers. I giddily chirped away about nothing at all, and being the awesome brothers they are, they let me talk and talk about nonsense the whole way to the expo, through the expo, and back to the restaurant. I was feeling so good about racing and running and seeing my family the whole weekend. Life was good. I was ready to "race" the next day.
I'll end this post with some fun pics from the expo. Race recap coming next!
We found a banner of Jason on the start line and had to take a picture of him pointing at himself.
Loved the way they alphabetically divided up bib pickup and spelled out A-Bra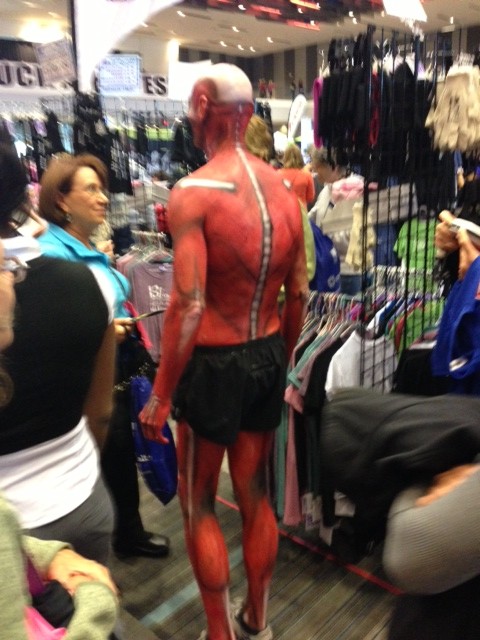 What do you think about using races as training runs? What's the coolest thing you've seen at a race expo? What is your favorite fall race?