Columbus Half Marathon recap. It's going to be a long one. Let's get right down to it.
I got the best pre-race sleep I've had since Currie was born. She actually went to bed around 8:30 (very early for her thanks to some planning and LOTS of help from the in-laws) so I went immediately to bed. I woke up a few times, but mostly slept until 4am. I laid there until my alarm went off at 4:30. I think I got close to 7 hours sleep!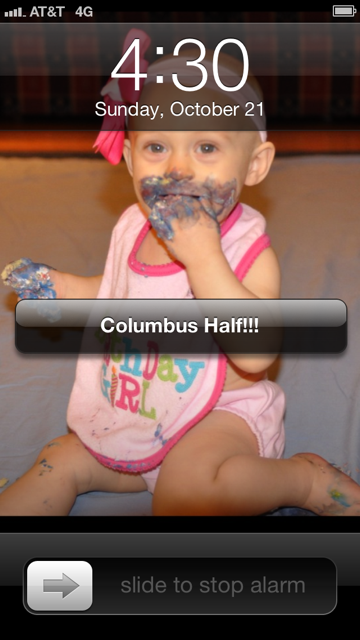 I had 32 oz of water, an almond butter sandwich, a banana and a cup of coffee immediately when I got out of bed (3 hours pre-race). I got packed up and excitedly started the 50 minute drive to downtown Columbus.
I easily found parking though I didn't realize it was a half mile away from where I needed to be. You would think after racing here 3 years in a row, and living in the city for 4 years, I would remember where to park. No big deal though. I arrived in the elite room right as my brothers were arriving from their hotel room. Josh ran the full, Jason ran the half. I hugged them and hugged Nicole (sweet girl, 2:39 marathoner, and little bro's girlfriend). I got a picture with my brothers right away.
I started discussing all the experiments I would try on that day, which led to Jason laughing and jokingly asking me, "have you ever run a race before?" I knew I wanted to try everything new. Everything I ever wanted to try on race day, but never had the guts to do before. If I was really doing this race as a training run, I wanted to get a little crazy. The first new thing I did was add the banana to my morning breakfast (noted earlier). I know, super crazy, right? I'm always scared to eat a banana, like fruit pre-race might mess with my stomach.
In the elite room, I pondered whether to wear – my tried and true, busted up watch or my Garmin. I was going to do the Garmin since I'm usually superstitious about racing in it. I wanted to break the superstition. However, I remembered being warned at packet pickup that the GPS watches could mess with the timing system, so I went with old busted up watch. It needs to be safety pinned… all velcro is worn out. I know I could get a new band, or even new watch, but I never do. I was so happy when I found out Nicole also uses a busted watch, held together with elastic! I'm not the only crazy one!
I used the restroom for the first of about 45 times in that hour. A hotel worker was getting ready in the restroom. She asked each elite the same thing. "So are you excited about the race? Are you running the whole race or just half?" I wish I had something witty to say back, to let her know a half marathon isn't "just half" but I'm too nice and said "I'm doing the half marathon this year."
I drank more water, peed some more, talked WAY TO MUCH. My brothers asked if I was really nervous or really excited because I was talking even more than usual. I told them the excitement of this race gets me EVERY SINGLE YEAR.
Before I knew it, it was time for the warmup. I went out with my bros and Nicole. I usually do at least 2 miles before a half marathon. I decided to experiment with 1 mile this time. Back in the elite room, I did some dynamic stretching and put on my racing flats, and took a gel. I TOOK A GEL! 20 minutes before the race! I am always afraid to do this, thinking I might get a sideache. So glad I tried this one.
Another elite was gel-ing up as well:
Next, the elite coordinators were telling us to get out on the course. We did bag drop and started strides, hugs and kisses for mom and dad, chats with people at the start line, and then… the one of my favorite parts of the race – FIREWORKS! The race starts at 7:30am, as the sun is just starting to rise, and fireworks and the statehouse cannon go off very close to the start line, lighting up the sky. So very cool. Perfect way to give participants that extra energetic push as the race begins!
The first mile of the race is almost still in the dark and always goes by quickly for me. I wanted to keep it as slow as possible, which was hard with all the pre-race excitement. I went through the one mile around 6:15. Perfect!
We were lucky to have temps in the 40s. It was pretty humid, and very foggy in parts of the course, but overall GREAT running weather! I heard someone say "top ten woman" as I passed around mile 3. That was my goal for the day. I never got passed and never passed another lady the whole race. That was really strange. I did have some back and forth action with other guys, but my female position was the same from the half mile through the end.
Another new thing I tried was taking in water/fuel every single water stop. Usually in a half marathon I take maybe a sip of water and a sip of gatorade, so 2 sips of something the whole race. This time, I took at least one drink of water or gatorade at least every other mile. This worked really well for me. I didn't take any gels. Liquid fuel worked great.
The roughest part of the race for me was around miles 7-8, but I tried to stay consistent with my miles. In reality, I slowed slightly these miles. I don't know exact mile splits, but I think I was in the 6:20s-6:30s. There was a heavy fog and cool temps, and my hands were frozen. I couldn't even hit the split button on my watch for 3 miles straight. I finally used my palm, at the bottom of my thumb and got my final mile splits. In retrospect, I should have worn my Oiselle arm warmers. Instead, I only wore throw-away gloves and I paid for it big time post race.
My dad got a few pictures of me around mile 8. You can see a little fog. In some places, the fog was so heavy you could barely see 50 meters ahead.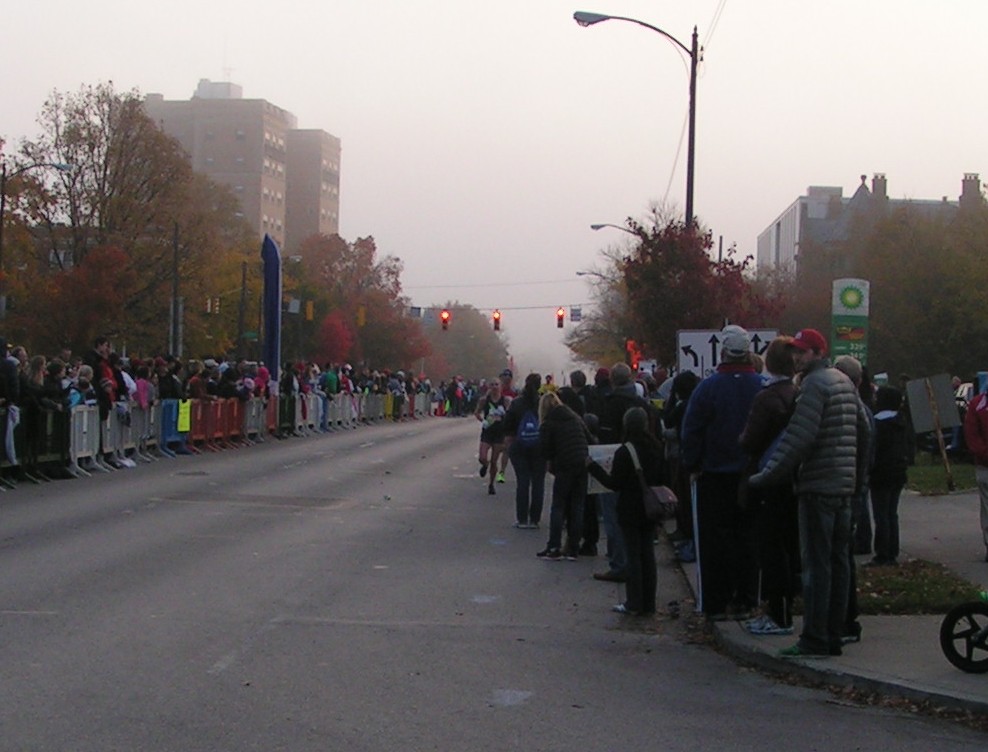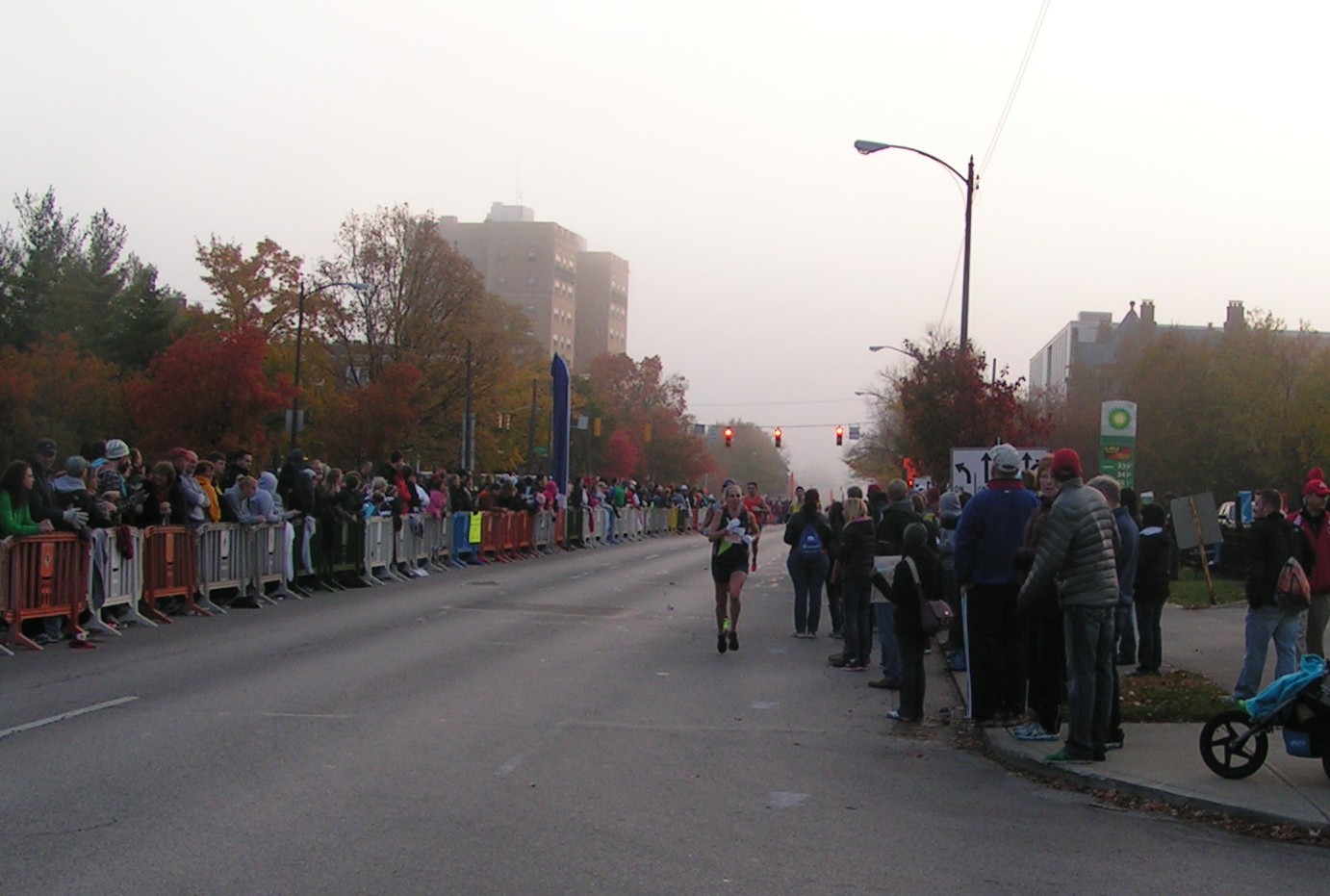 Around mile 10, I started feeling really good. At mile 11, two guys running the marathon passed me and I thought "I only have 2 miles left, why haven't I picked up the pace yet?" I asked the guys if they were doing the half or full. When they said "full" I knew I needed to get more aggressive and pass them. We chatted a bit about goals, fast runners, etc, and then I was out of there. They cheered for me, from behind, for the rest of the race until about 1/2 mile to go when I could no longer hear them.
I felt AWESOME the last 2 miles and would have gone even faster had I not had stomach issues that had me running straight to the restroom at the finish line. Was it the banana? The gel with caffeine pre-race? The gatorade on the course? The whoopie pie I had the night before the race? I'm thinking it was the dairy in the whoopie pie. Dumb move considering I was so good about dairy that whole week leading up to the race!
Still, I finished so strong, playing up to the crowd like I was the first place woman, "raising the roof" etc. I was pretty pumped. I ended in 1:21:09 (6:11 pace). I was planning to go 1:22-1:24. I feel  like 1:19 was definitely attainable if I would have been racing.
I really liked the medals this year, with the theme of "inspire". I loved this year's partnership with Nationwide Children's Hospital and the "Miracle Miles" with Patient Champions at each mile of the race. Each mile was dedicated to a child who has been treated at Children's, with banners and posters showing a picture of a child and a little blurb about their struggle. For instance, at mile 5, there was a sign saying "129 doses of chemo=5 miles". Talk about perseverance! These signs were very motivating for me. I gave high-fives to as many of these children as possible.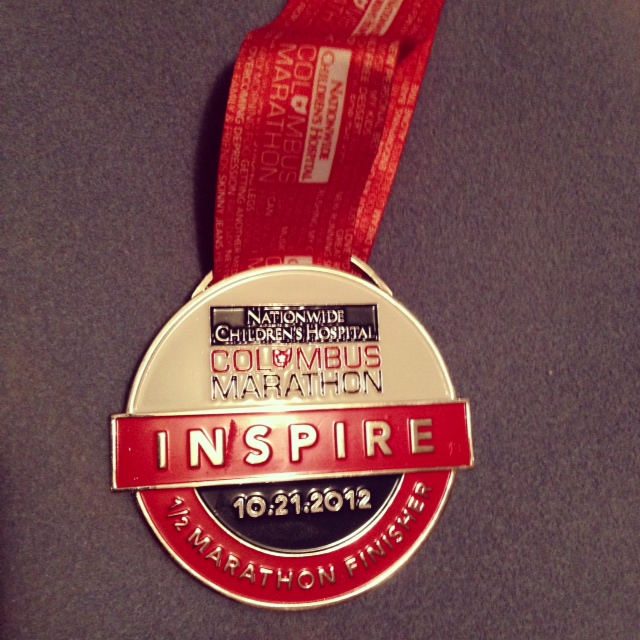 Post race, I got together with my bros for one final picture. Josh had a rough day and finished 6th (he won this race in 2008). Jason had a small half marathon PR in 1:04:56 and was 5th place. I finished 8th female. These were the worst "place finishes" any of us have had at Columbus, but still lots of fun!
So there you have it. I could write a post just about how amazing this marathon is, but decided to just go with my personal experience this year. If you haven't done Columbus Marathon, I highly recommend it!
In the end, I'm so happy I did this more as a training run than a race. I was tired at the end, but not beat. I tried all the new things I wanted to try, and have more confidence going into half and full marathons in the future!
So tell me… have you ever gone against common advice and tried lots of new things on race day? How did it turn out?