Let's get right down to it. It's gonna be a long one. For lessons learned, etc, scroll to the bottom: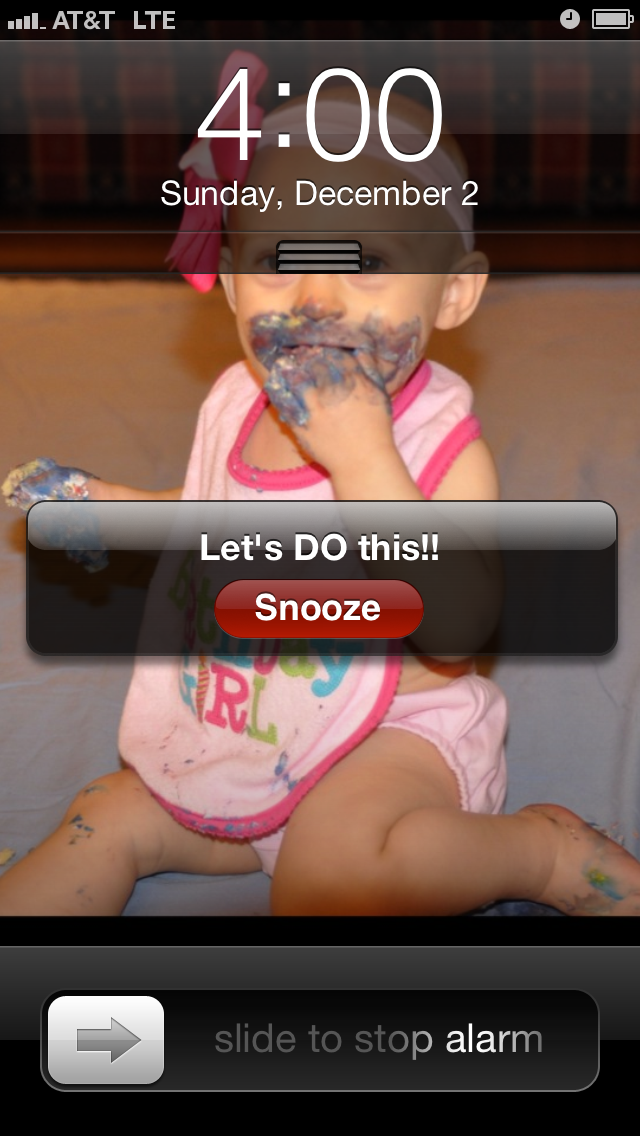 I woke up at 3:45am on race morning before my alarm went off with this cheesy message: "Let's DO this!" Despite the forecast for the worst, I knew it was going to be a great day. I braved the wind and rain to get my coffee at the Starbucks on the corner of our hotel. The Starbucks was set to open earlier than usual for the marathoners, 4am, and when the employees saw the long line of people waiting in the rain for their cup of joe, they opened 10 minutes earlier. THANK YOU STARBUCKS EMPLOYEES!
Back in the room with my Tall Blonde, I ate a plain bagel with almond butter and drank a bunch of water. When I got dressed, I noticed the Oiselle tattoos I applied the night before were destroyed. That's what I get for applying tattoos on lotion-y legs. Darn!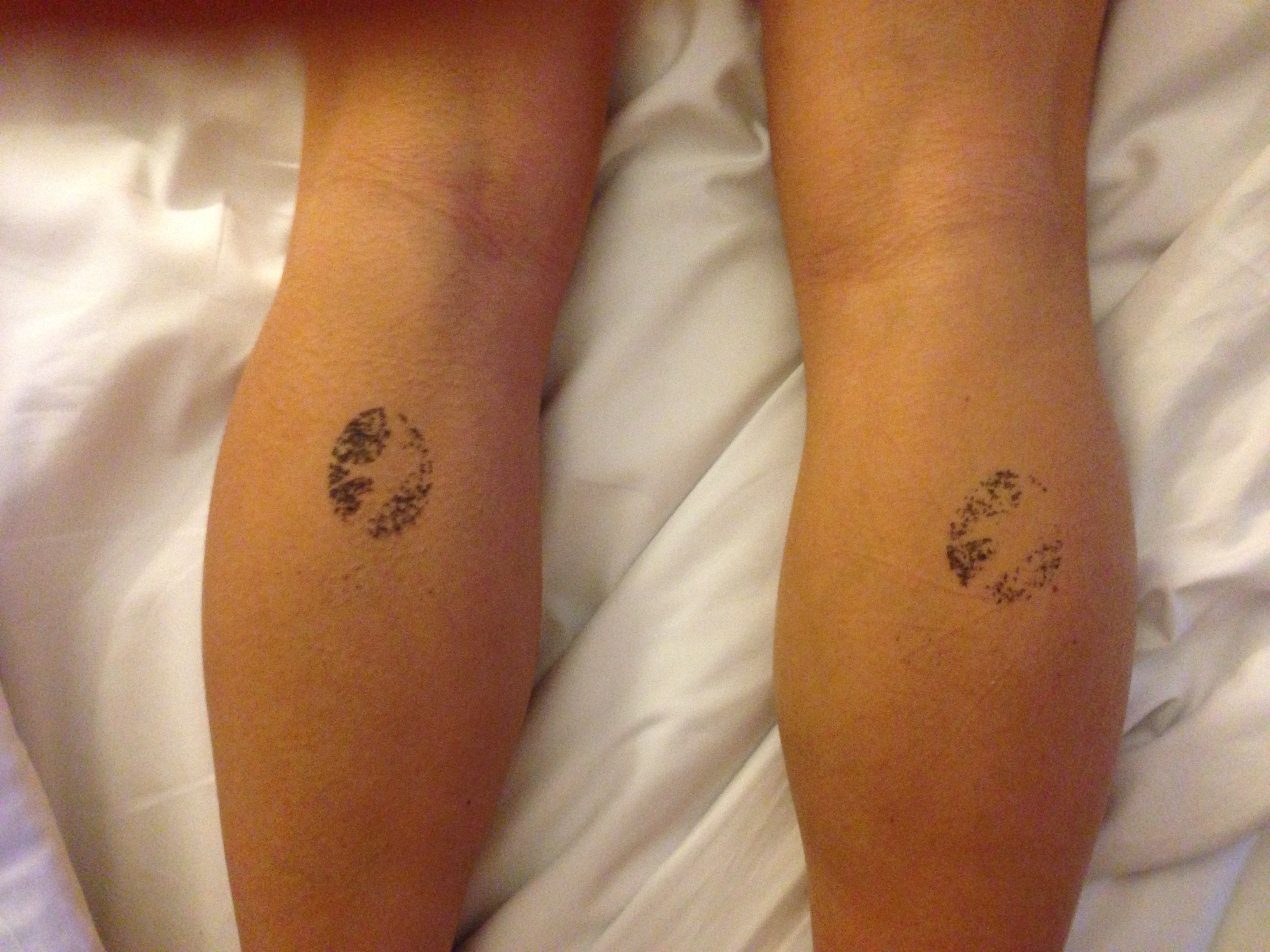 Jason and I left the room just before 5am so we could head over to the Sheraton, just a few blocks away, to catch the busses to the start. The marathon starts in Folsom and ends in Sacramento. It's about a 45 minute bus ride to the start.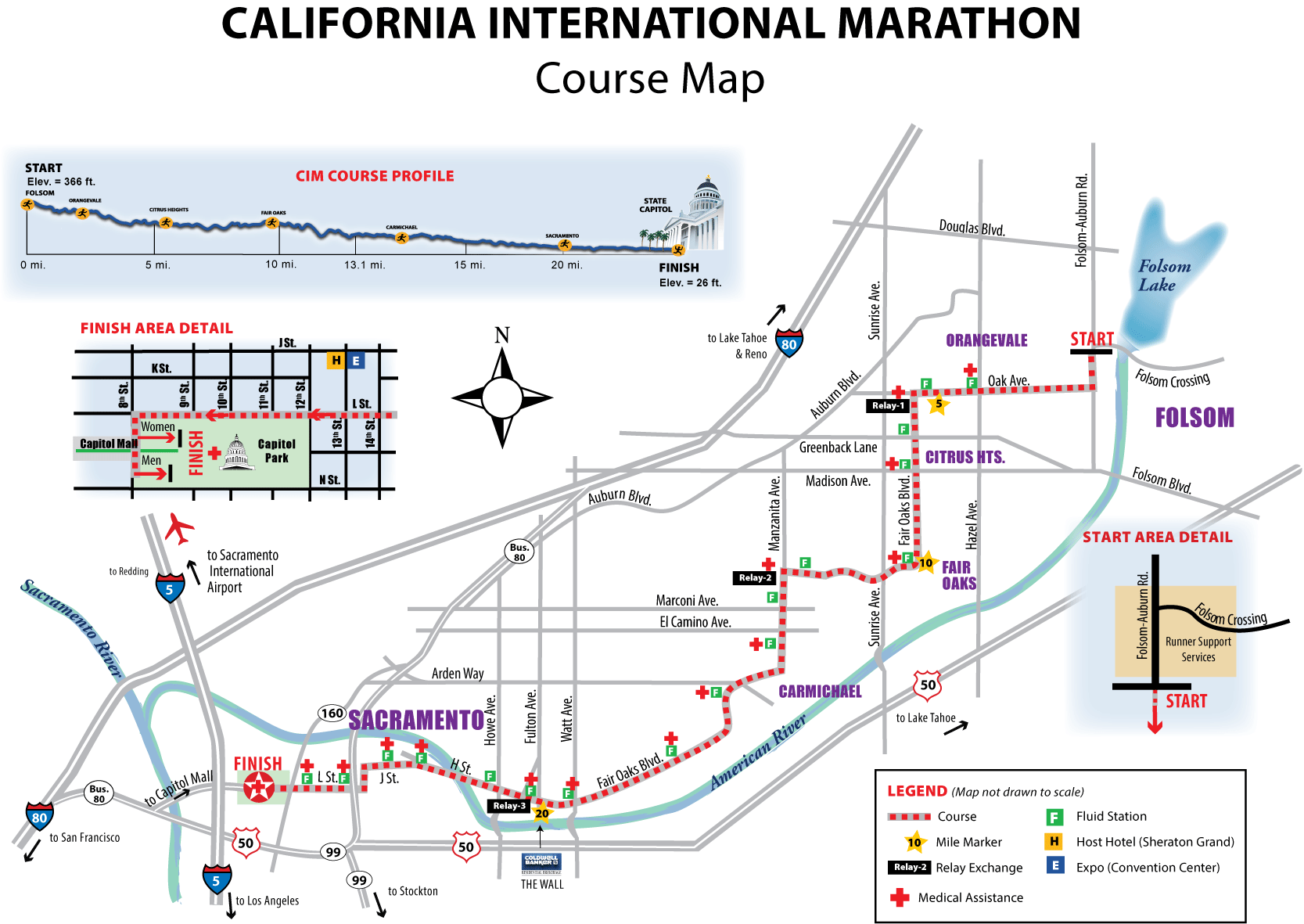 On the way out, we took another elevator mirror pic.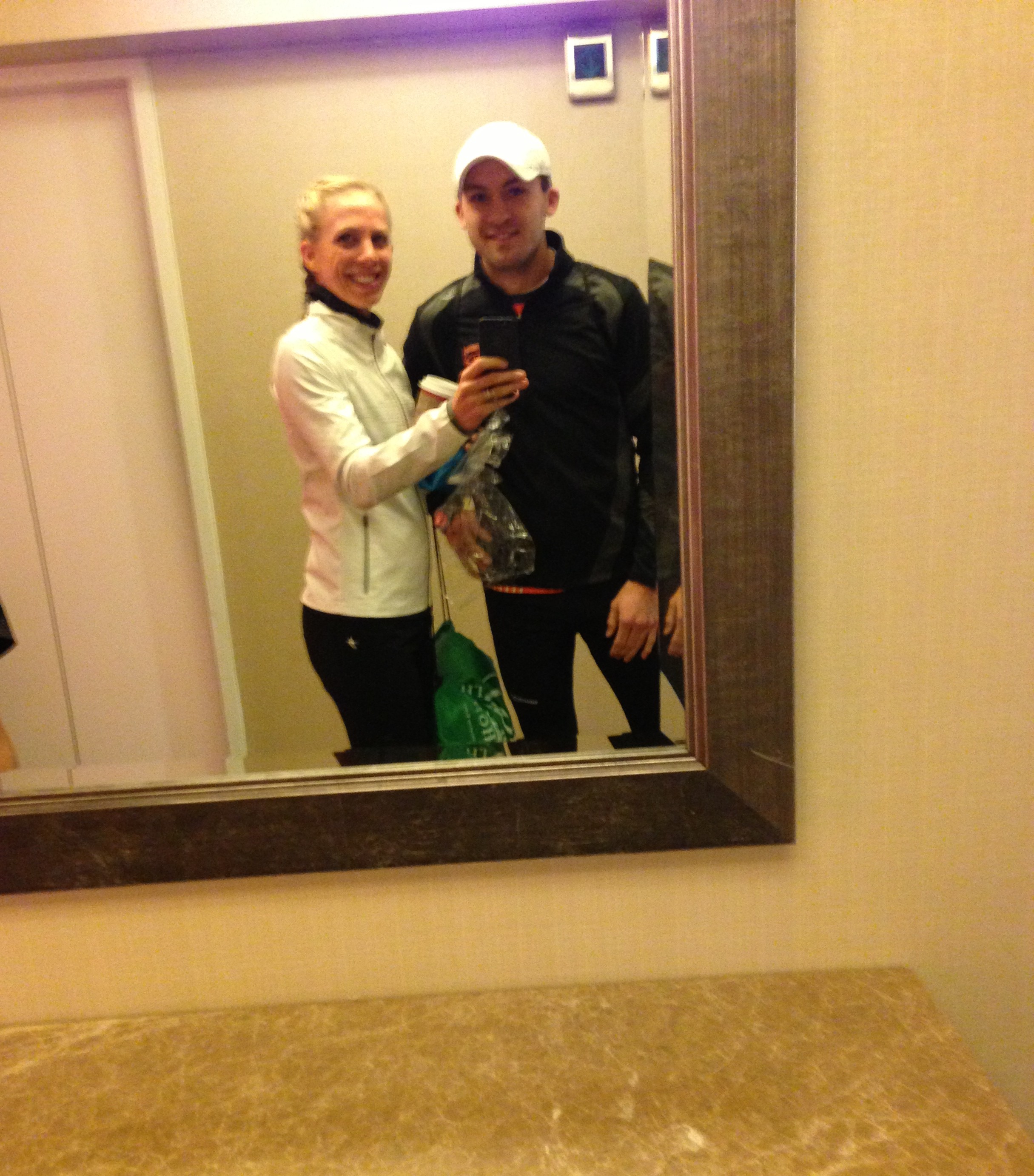 We got on the 4th bus in the big row of busses. They were playing Christmas music. Jason and I started singing along, then went to cracking jokes and laughing hysterically. We talked the whole way and kept the tone light. I had maybe 2% excited nervousness, 98% happy-go-lucky.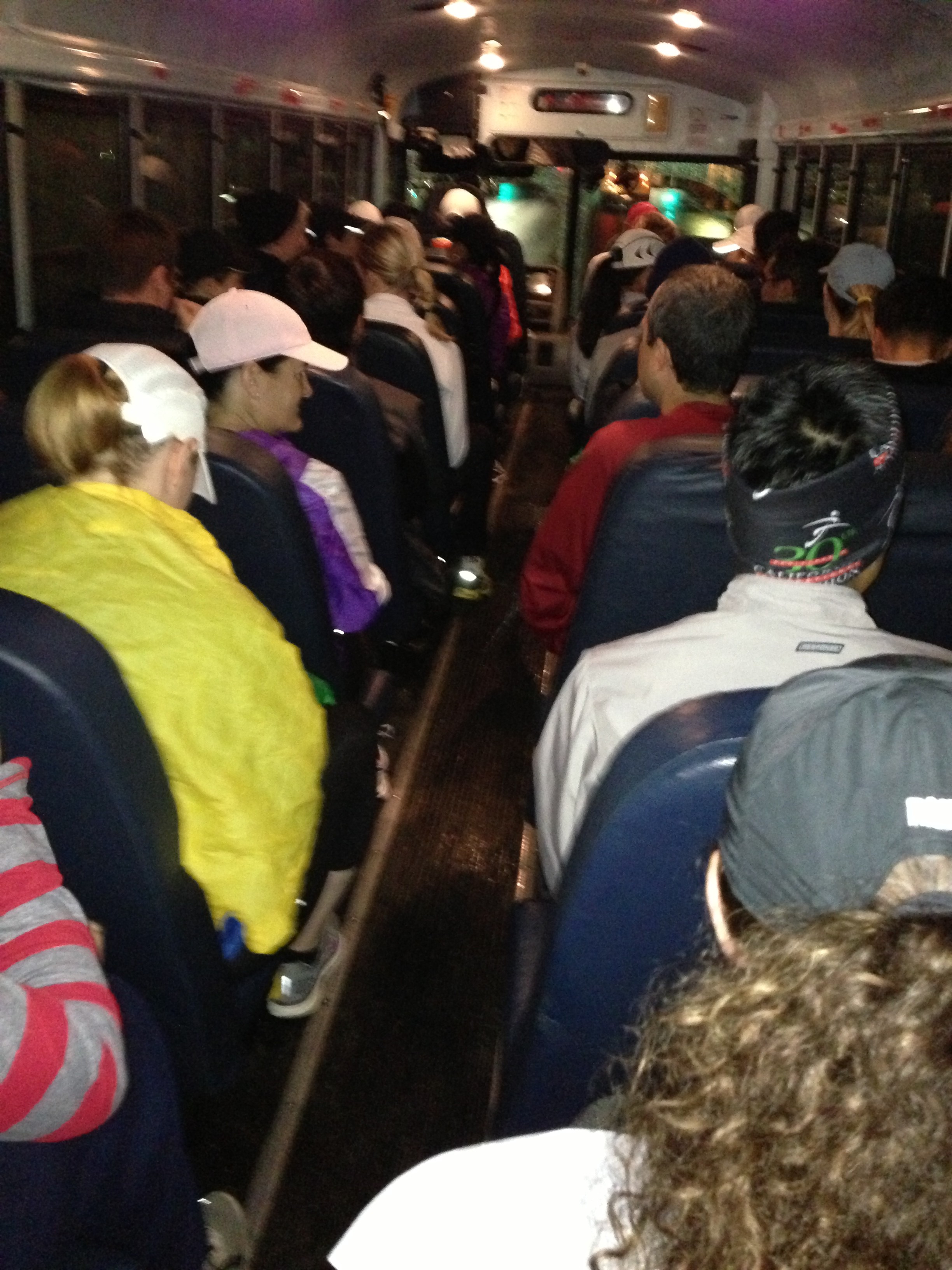 The busses were really hot and I was layered up in Oiselle outerwear so I had to slide my arms out of my funnel neck top and pull my pant legs up to my knees. Ahhh, much better. Time for another sibling pic! Jason seriously looks how he did in middle school in this photo!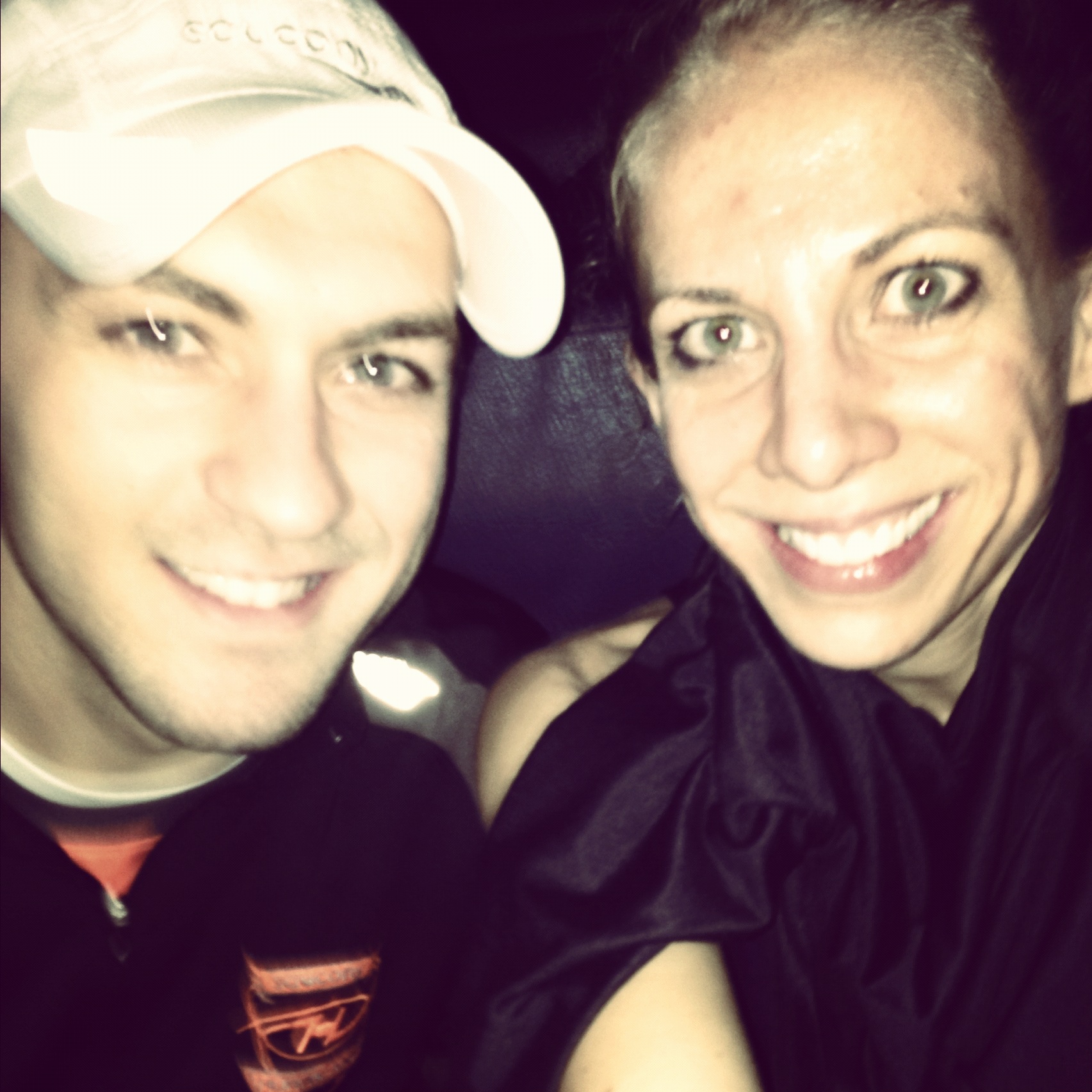 After the blinding camera flash in the dark bus, I decided to check the weather at the start line. I took a screen shot. I don't think I need to explain anything. You know we were going to be running into the wind and the race started at 7am…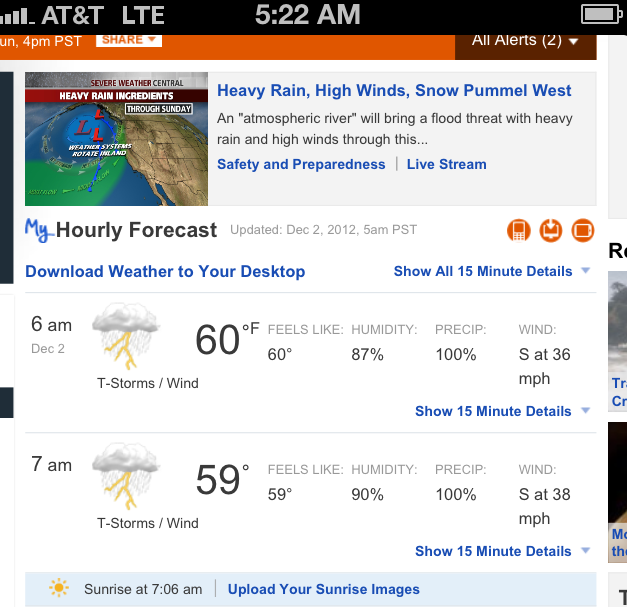 When we arrived, we walk/jogged through the rain looking for the elite tents. We found them after 4 failed attempts. They had a lot of tents around, it was dark, and in the rain and wind, it was much harder to find than it would be on a clear morning. We went straight into the porta potties where the toilet paper was so moist it was swollen. Made for a soft, slightly damp wiping experience though, so that was cool…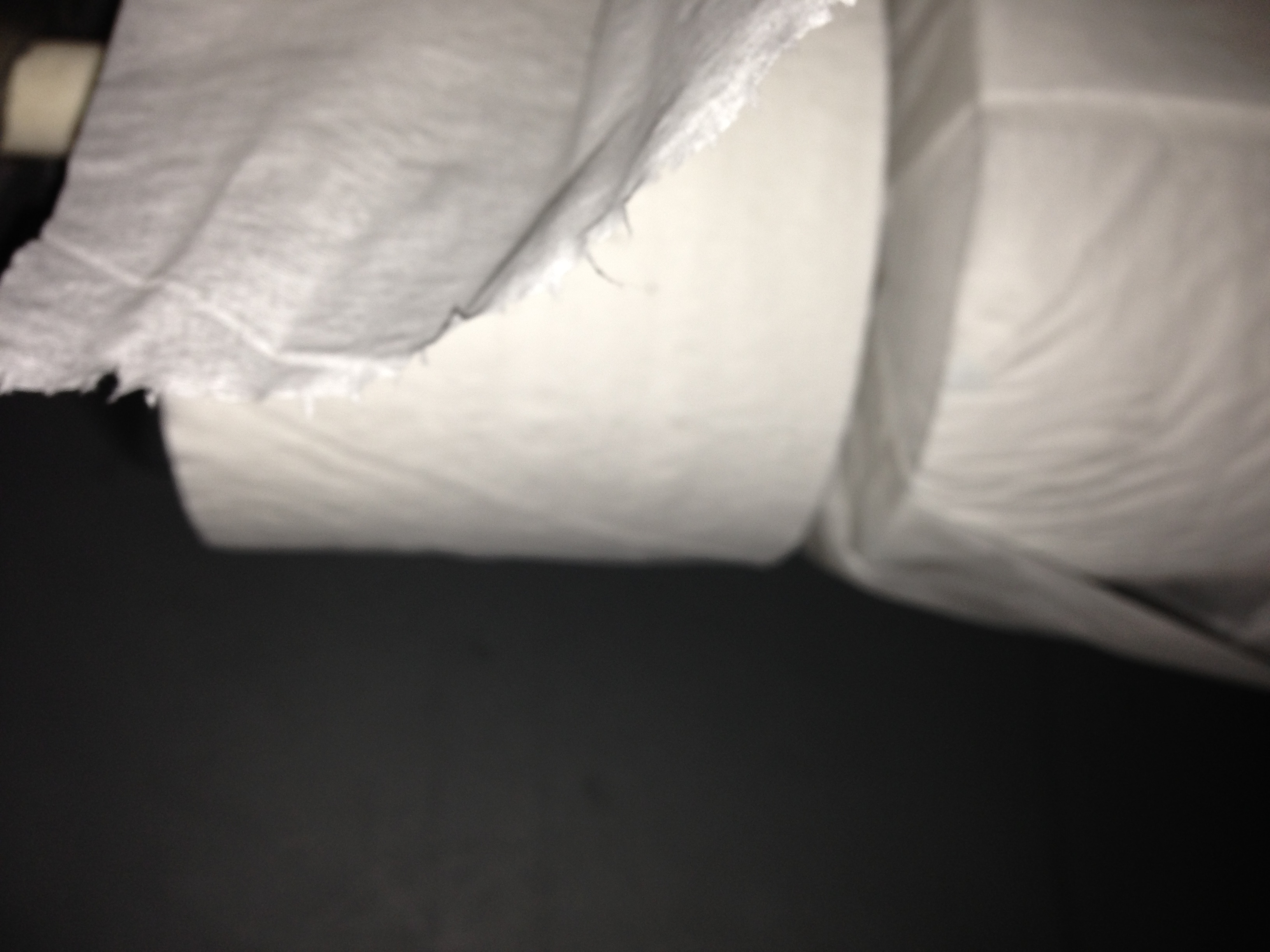 When I got into the elite tent, and boy was I happy there was an elite tent, I noticed my Raynaud's problem was starting.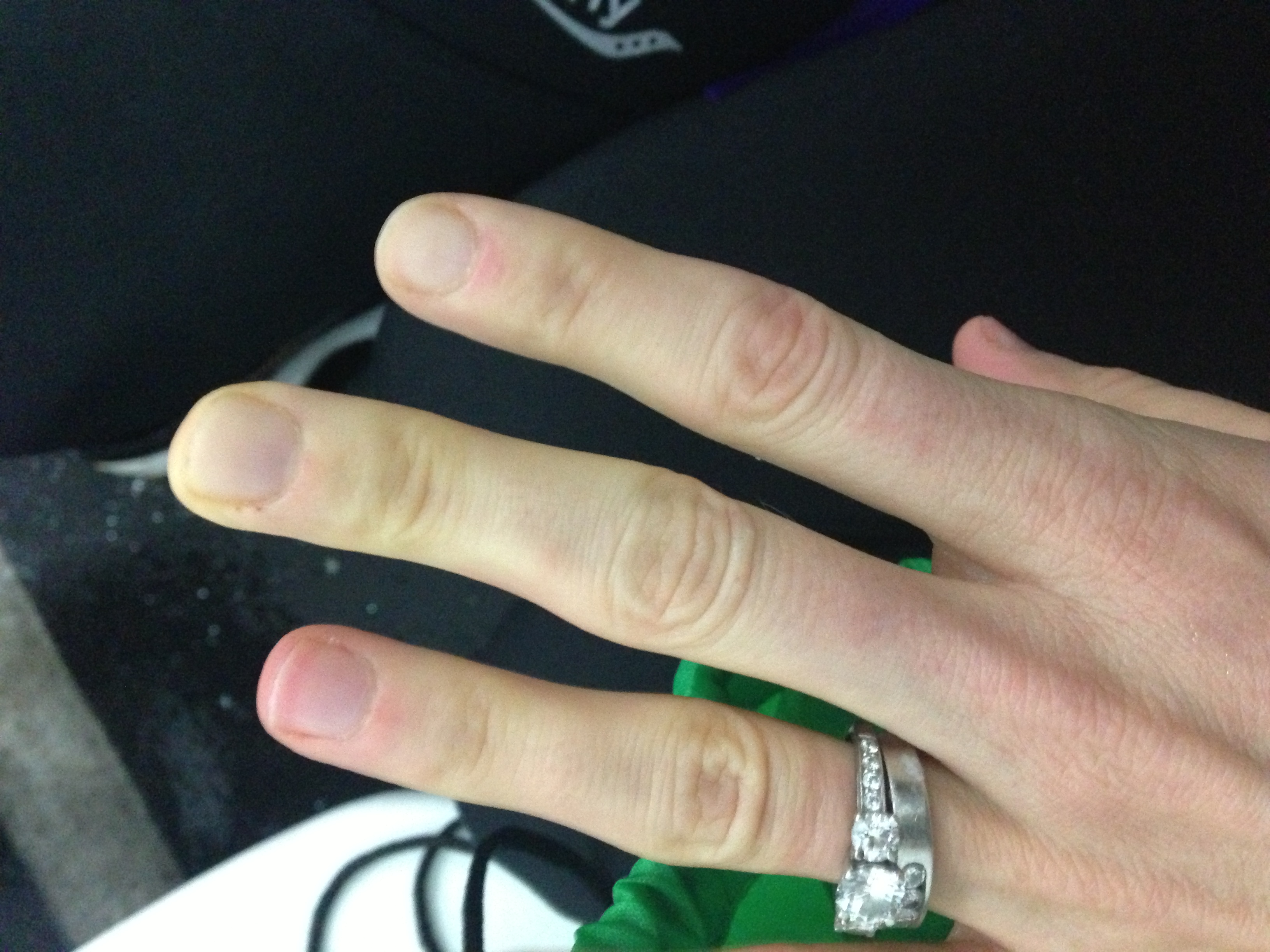 I had cotton throwaway gloves but knew they would be soaked before the gun went off. Thankfully, I saw a box of latex gloves sitting on the table. I put them on over my "throwaway" gloves and ended up wearing them the whole race. It was the best my hands have ever felt during a race! Perfect temp! (Though I did rub my under-eyes raw during the race without knowing it. With the rain I was constantly wiping my eyes and I guess latex and sensitive eye skin don't work well together.)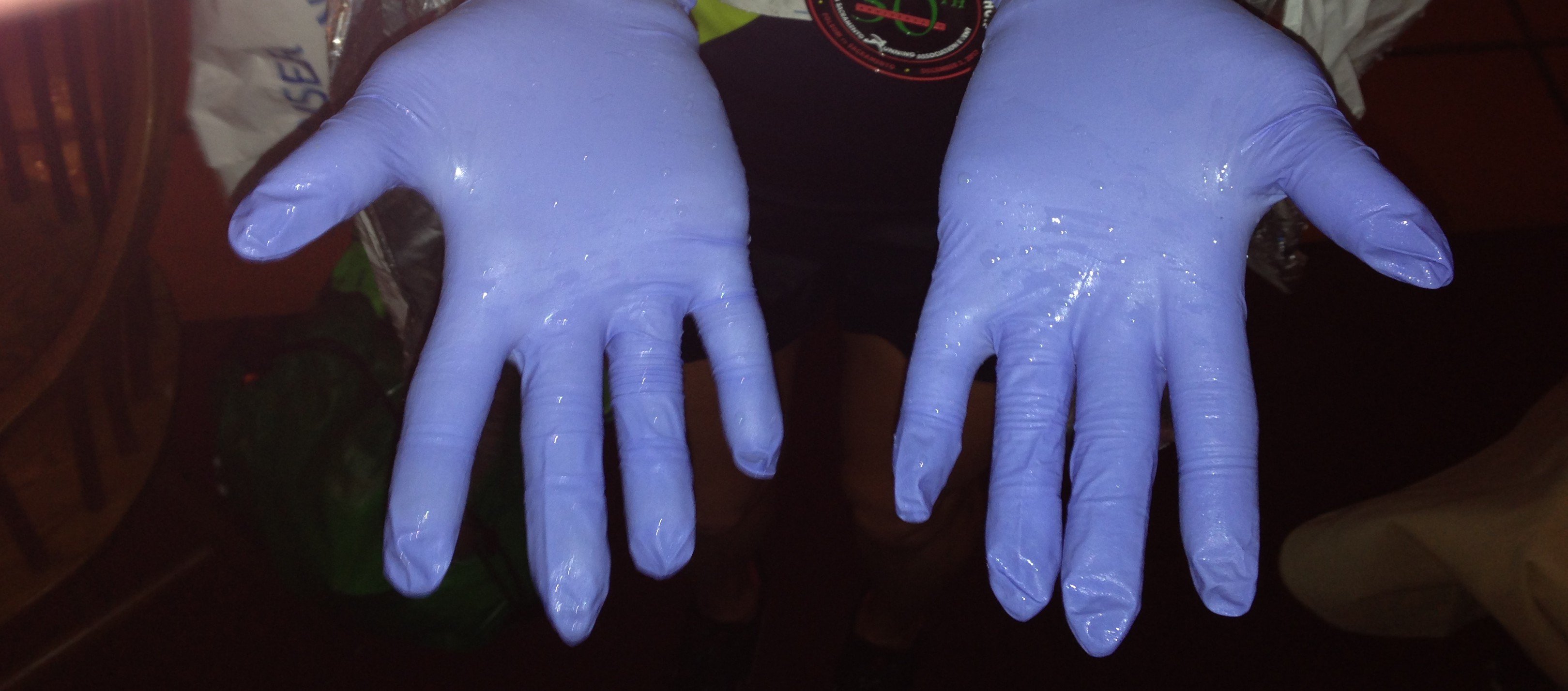 Ok, onto the real deal. Time to race!
I planned to run as much of the marathon as I could with my friend Mason. Mason was in incredible shape, but I figured I could stay with him for 16 miles and after that he would probably cruise along to a great finish as I survived the final 10 miles. That was the plan in my head anyway. When I went to the starting line, we immediately spotted each other, gave some "let's get pumped up!" hugs, hand squeezes, etc, and got our game faces on. I also saw my Oiselle teammates Allison, Stacy, and Marci on the starting line. We all looked cold, wet, and focused.
The race was off and the first mile went by with no problems. (Other than the rain, which felt like sharp pellets in my eyes even though it wasn't sleet or hail. It was knocking my contacts down each time it landed on them and I would blink to push the contact back in place. This continued the whole race.) I wore my Garmin so I could have splits post-race, but decided I wouldn't look at it. With my training and the weather, I was just going to run by feel. The miles clicked by, Mason a step ahead of me most of the time. Sometimes we would run side by side, and maybe there was a mile or two where he ran behind me, but for the first half, we just ran, exchanged words, shared Nuun bottles, and enjoyed each other's company.
I couldn't help but feel so thankful for all the volunteers out on the course. What we were doing was EASY compared to their day of standing in the wind and rain, helping us achieve our goals. THANK YOU CIM VOLUNTEERS AND SPECTATORS! I also couldn't help but feel thankful for Mason. His presence made me feel relaxed and comfortable, exactly what I needed the first 13.1.
At the half point, I looked at my Garmin for the first time. I saw we were right around 1:25:40, EXACTLY where we wanted to be. My calves started cramping, tightening, showing the first signs of failure at mile 11, but other than that I felt good. I was optimistic. Then I had a problem grabbing my "special needs bottle" at mile 13.3 followed by a problem picking up a GU from a volunteer and lost a good 10 seconds (I actually stopped trying to get both items and in the end, the GU flew off the course into the grass and I didn't get it anyway.) I had a quick thought of pity for myself. I knew I would need that GU soon and I wasn't sure when the next one would be available.
I snapped myself out of my pity party and continued on. Alone. In fact, other than passing a few people and a few passing me, I was alone the rest of the race. I usually had no one 20 meters on either side of me. I was alone with my thoughts.
On the flight to Sacramento, I had read Duel in the Sun and remembered reading about Alberto Salazar's faith. He mentioned praying on flights, in the car, on his daily runs. Though I don't remember ever praying on a run in my life, I spent many of my marathon miles talking to God. The prayers gave me strength, passed the time, kept me hopeful. I also thought about where my little brother was on the course. I imagined him running strong through the same elements I was facing. It filled me with joy. I had a feeling he was feeling as good as me. (Turns out, he was doing great!)
I don't remember when I found the next GUs after missing the one at 13, but I think it might have been around mile 17. It was vanilla flavored and I had to stop at the table, ask a volunteer if they had any, and wait for her to get one and give it to me. A few seconds spared there were more important than minutes spent after a bonk. She gave me a vanilla flavored GU, and just like the one I took around mile 9, I took it without fluids. I just put a little squirt in my mouth, opened my mouth to the rain until it formed more of a liquid and swallowed it.
At mile 20, they had a brick wall poster on both sides of the street, like we were running right through the wall instead of hitting it. I was ecstatic to not have any feelings of hitting the wall. Around mile 21, volunteers were handing out GU again. I took 2 by accident. One was Espresso Love, the other was Strawberry Banana. I went with the caffeine and put the other in my back pocket. At this point, I knew I was going to make it. I knew I was going to be sub-3 (my goal) and I was feeling better than I have ever felt at that point in a marathon! The pain in my calves was getting more intense, but I knew it wasn't enough to stop me from finishing happily.
The last few miles were just maintaining, trying to keep myself under 7:30 mile pace. Usually, by the end of a marathon, my pace slows drastically (hello 8:30 pace) and I just wanted to keep my miles as steady as possible, no slower than 7:30. I checked my watch on a few of the miles and saw I was just over 7 min pace and I told myself to just keep pushing.
With 2 miles to go, I knew I was going to be way under my goal of sub 3. I got excited. I joyfully ran the last few miles and couldn't wait to see how Jason and Mason finished. Right when I crossed the finish line, Mason was waiting and we hugged! It was such a good feeling to know he had a PR (2:51!) and I ran my 3rd fastest of my 8 marathons (2:54!).
I was given a medal, offered chocolate milk (which I declined-lactose) and given the finishers blanket. Some people started asking Mason and me about the course. He, in a better state-of-mind having finished a few minutes earlier, knew we were being interviewed for TV. I had no idea until about a minute in when I saw the microphone. I assumed we were talking to race volunteers. I blame the marathon haze effects on the brain.
I found my brother in the Sutter House where they had the elites and found he placed 4th and got $1000! Woohoo! He took a picture of Mason and me.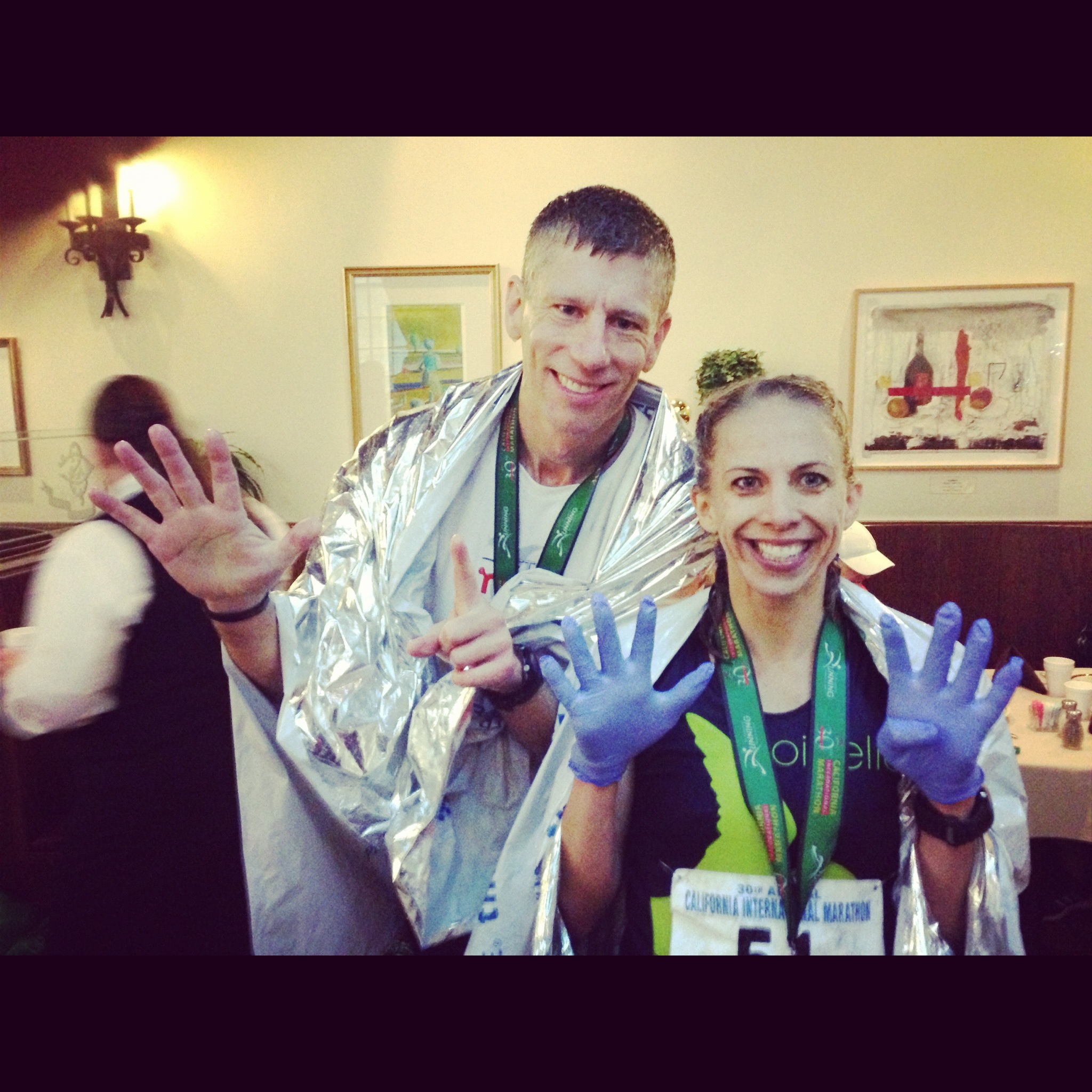 Jason forced me to eat from the breakfast buffet they had for us and I'm glad he did. Though I wasn't hungry, I think it helped me recover quickly. After I changed out of my wet clothes and had breakfast, we got sibling massages. PAINFUL sibling massages. Nothing was fun about this, but we figured our muscles would thank us later.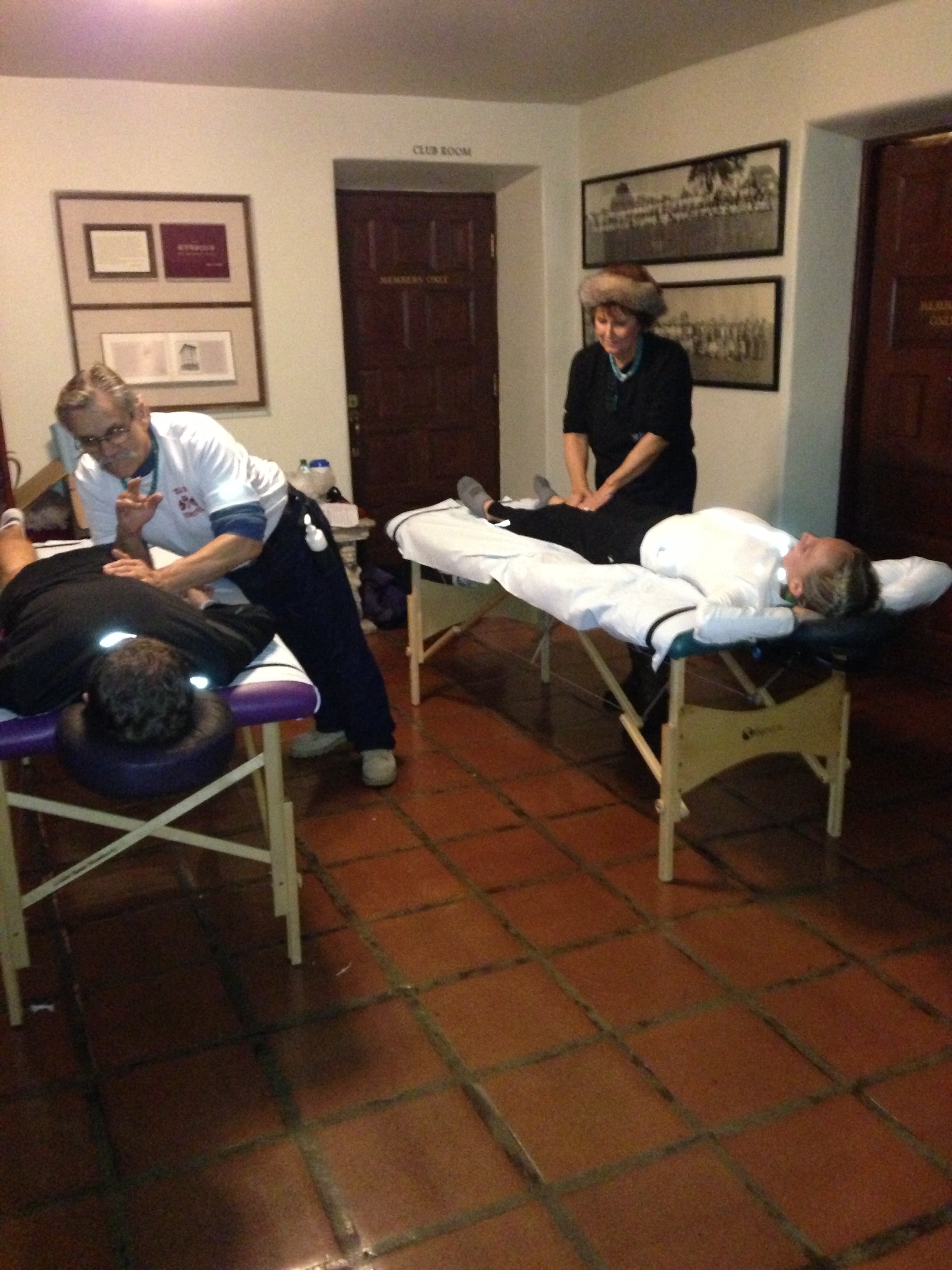 After the massages, we went to our room to shower and hang a bit, then went to the elite room for some more food and drinks. An hour later we attended the awards ceremony where Jason was awarded with his check. He is pictured below with 5th place finisher, Nick Arciniaga.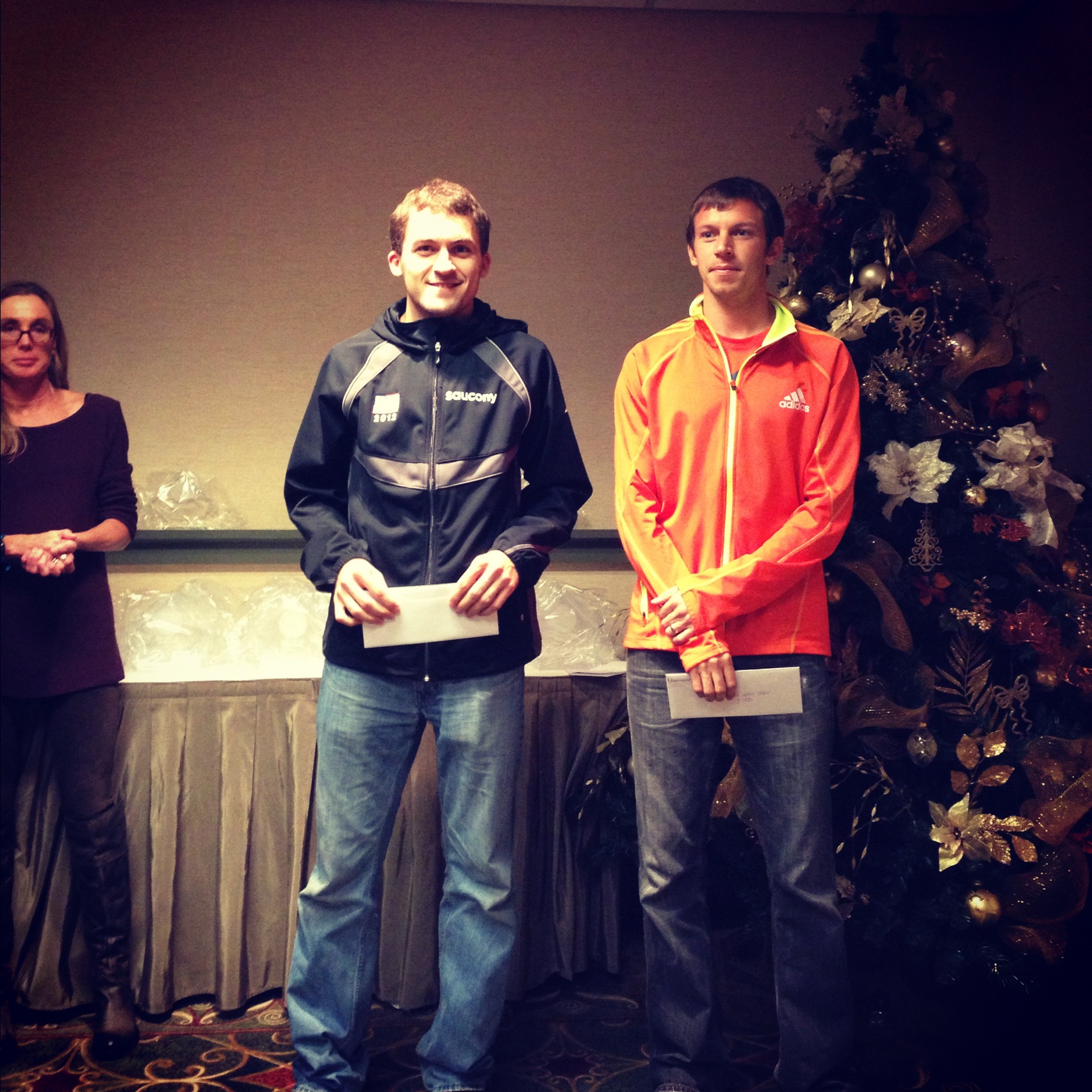 A few points of interest, things I learned…
You know, I never wanted to run a marathon. The only reason I ran my first in 2004 is because I wanted to impress my new boyfriend who is now my husband. We both ran Seattle as our first marathon. I was more into heavy weight lifting at the time, was running 3 days a week, and said I'd never run another. Well, I did run a few more, as this was my 8th marathon and it was my favorite because I felt good the whole time. I've always felt like a mid-distance girl who is forcing marathons. Now I truly feel like I have a future in the marathon.
At first, I was shocked to run so fast given my short buildup and my half-hearted training, but thinking about it, I've been running all year so I was only lacking in workouts and long runs, but I had a great base. And I was in awesome shape last year which I know means something.
This marathon gave me the opportunity to do new things like fuel the way I have always wanted to – the way that always scared me with my sensitive stomach. I ended up taking a GU with caffeine 15 minutes pre-race, another GU with caffeine around mile 9, a GU without caffeine around maybe mile 17, and a GU with caffeine around mile 21. I drank a few sips of Nuun at 4 locations, took powerade and/or water at every station except the last one (so 16 stations) and my stomach felt great.
My mile splits were the most consistent they've ever been. Yes, they consistently got slower, but I never completely fell apart as shown below:
1:   6:09
2:   6:15
3:   6:10
4:   6:15
5:   6:20
6:   6:22
7:   6:29
8:   6:35
9:   6:42
10: 6:34
11: 6:34
12: 6:29
13: 6:31
14: 6:37
15: 6:34
16: 6:25
17: 6:30
18: 6:45
19: 6:49
20: 6:55
21: 7:03
22: 7:17
23: 7:08
24: 7:10
25: 7:00
26: 7:07
1:49
People always say don't do anything new before the marathon. Well, here's my list of old, normal things:
Oiselle racing kit
Shoes
Brand/amount coffee
Breakfast
Healthy
Confidence
And here's my list of NEW things for this race:
Fueling during race – I will continue this in the future!
Crazy weather – I would prefer nicer weather and a tailwind!
Friend to run with first half of race – I would love this for the future!
Stayed in a hotel night before – This was nice, but I like my own bed.
Raced against super elites (there were big names, super speedy people running. I never felt so slow with a sub 3 hour marathon!) – Want to do more of this!
Training – Would definitely like a longer training cycle next time!
Actually got sleep, 10 hours 2 nights out, maybe 8-9 night before. – This was great!
Ran last half of race totally alone – It worked out ok but it's nice to have people around.
Lots of laughs, much more than usual in days leading up to race – Would love to spend days leading up to marathon with my siblings for future races!
Completely cut out dairy in 3 days leading up to race – I will definitely do this in the future!
Latex gloves over throw aways – I will do this in the future!
Travel east coast to west – Loved the time difference. Getting up at 4am (7am) was easy!
So there you have it! A recap of the marathon that made me feel like a true marathoner! I can't wait to see where I will go next with this distance!