I ran the Frigid 5 Miler on Sunday. It was my first race in Pittsburgh. Well, it was in North Park which is a 40 minute drive from my house in Pittsburgh, but it was my first race in the area. I was 3rd female, 11th overall. If you remember from my last post, the course was said to be "challenging" with a "great uphill finish". Let me tell you, the race lived up to its description!
We got a late start to the race and didn't arrive until 8:20 for a 9:00am start. We weren't pre-registered because I just found out about the race this week and then the disaster happened and I wasn't going to race. We got things under control around the house and decided to race afterall. Jeff and I both ran the race.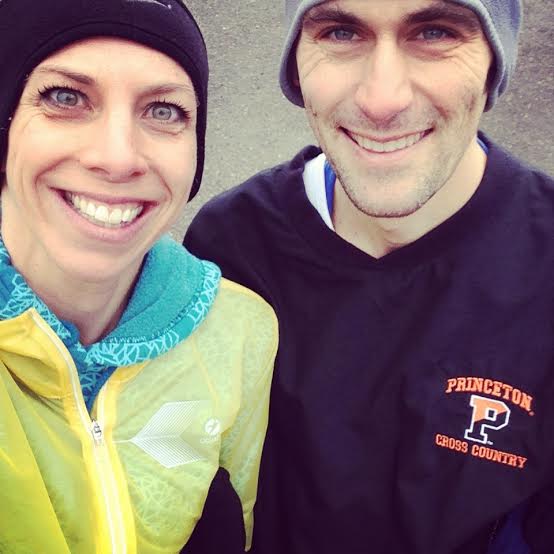 We've never been to this part of North Park (I ran at North Park last week but not where the race started and finished) so we parked where everyone else was parking and figured we would jog to the start line/registration area, jog back to the car for racing flats and to strip down into race apparel, then head back to the start line. Little did we know, we were 3/4 of a mile from the start line and 1/2 mile of that was uphill approximately 260ft. Also, that 1/2 mile was the "great uphill finish" they were talking about in the course description. So, before the race, we ran up the hill, down the hill to the car, then back up the hill to the start line. My legs were feeling a *little* beat up already and the race hadn't started yet! There was no time to delay because of our late arrival so we had to take the uphill part running a little faster than I would have liked both times. We arrived at the start line with 7 minutes to spare. Enough time to do a few strides.
Before the race, the announcer (who must have thought Jeff and I were fast-looking or unfamiliar with racing in the area) talked to us about how the roads were salted but slick and to stay off the center line and be cautious on curves. I'm terrified of running fast on ice, so I was a little worried toeing the line. But before I could worry too much we were off!
Mile 1 usually FLIES BY for me. Not this time. Mile 1 seemed like an eternity. Female 1 was ahead of me from the start and female 2 passed me on a downhill. I was losing a lot of ground on every downhill because #1 – I was worried about slipping and #2 – I couldn't get my legs to go faster on the steep-ish down sections (which I think was just my mind not letting them go faster). The first mile was 6:10.
Mile 2 was 5:56 and uneventful other than the strong headwind and sleet. I was already running by myself and wished I had a group for drafting purposes! I noticed the road was a little slippery, but I never slipped or thought I would really fall.  On the downhills, other runners would gain on me and on the uphills I would gain on them.
Mile 3 was 6:05 and I remember thinking I wasn't even breathing hard on the downhill but couldn't get my legs to go any faster on that portion. I also realized I had WAY too much for breakfast. (I had 2 pieces of thick cut sprouted wheat bread, piled with almond butter, chia seeds, and a large banana. That is more than I usually eat before racing, but with nursing and running 50 miles/week, I am always worried about getting enough calories. Next race, I will cut it down to one piece instead of two.) I could feel and taste the breakfast, even though I ate it 3 hours before, and it was an uncomfortable feeling anytime I was running uphill.
Mile 4 was 6:28 and I started thinking about the uphill in the final mile. I know, big mistake! I'm usually good about staying in the current mile but I let my mind wander. I also started getting REALLY cold fingers at this point. They felt like fat frozen sausages.
Mile 5 was 7:07! I really thought I would catch the women ahead of me, but I only gained a little bit and wasn't close to passing either one. I think I had a little more to give, but probably would have lost some of my breakfast. You can't have it all.

Positives of the race (for me personally) were:
Challenging course, happy with my time

Heard someone yell "Go Oiselle!" correct pronunciation and all!
Good showing out there… about 500 people raced!
Pancakes, bananas and hot cocoa after race – yum!
There were people taking pictures and VIDEO at the end! I don't know where to find them, but I will find them and can't wait to see my pain face!
Down points of the race (for me personally) were:
Windy, icy, and alone most of the race
Had to rush home to get kids. Only had limited amount of childcare and race was 40 minute drive so no time to spare chatting post-race.
Got caught mid-pee squatting before the race (no time to wait in line at restrooms and lady walked right up to me with my pants down! At least it was a lady!)
Don't let my personal down points fool you… this race was fun and challenging and I would definitely recommend it and run it next year! I made a few personal mistakes, but that's just a part of racing. My goal was to run faster than I ran at my 5 mile Turkey Trot. I didn't, but I'm fairly content with my time. Jeff ran ~ 2 minutes slower at the Frigid 5 Miler than the Turkey Trot and I ran ~ 30 seconds slower so I am mostly happy with the effort!
Warmup and cooldown were about 5 miles total, race was 5 miles, and I ran another 5.17 in the evening for a total of 15 miles on the day. I woke up a little sore, a little tired, but very happy this morning.
Questions for you:
Did you race this weekend? How did it go?
Ever eaten too much pre-race and know that gross feeling of "I might barf any moment"?