Wells is still 5 months old!
I raced the Gate River Run over a week ago! It's been hard for me to write this recap because there's so much to say in such little space. Basically, weekends like this one just make me love running so much more. The process of becoming the runner I want to be and the people I meet through running teach me so much about myself and the life I want to live. Gate River Run weekend was no exception. I met a few big name runners who I've been dying to meet for years. I met a few Oiselle teammates who far exceeded my high expectations. Nearly everyone I talked to changed my life (for the better) in some way. It was a wonderful weekend with so many great memories that I won't share here but will hold in my heart forever (you wouldn't care, but all very important to me!) Even though my race wasn't quite what I wanted, I'm so happy I had this experience and hope to run Gate River Run many years in the future!
Let's get down to details! It was a 15k, 9.3 miles (the USA 15k Championships and the field was stacked! Shalane won and broke the American record! Whoa!) I ran 57:55 which is about 6:14/mile pace. I wanted to do 6:10/mile pace (or faster, of course!) and originally thought that's what I did, but turns out I was a bit slower!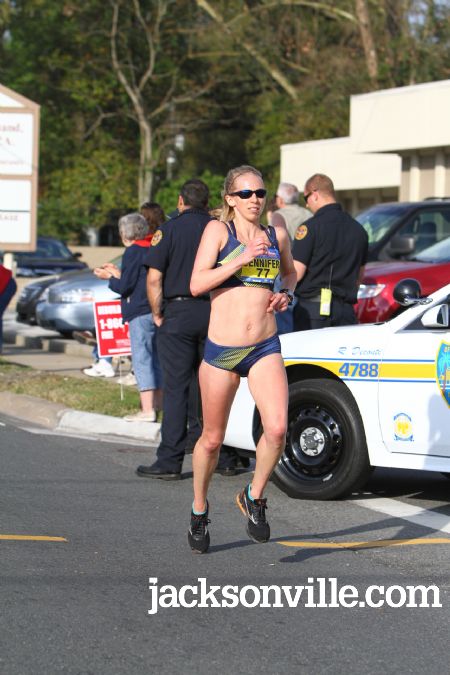 Race morning: Woke up, had a bagel, peanut butter and less than 1/2 mug of coffee, 3 hours before the start. (I planned on getting more coffee before I got on the shuttle to the start but the hospitality room was closed and I didn't have time to go to a coffee shop.) I also started chugging water and had 32 oz within 30 minutes of waking up. Then I sipped water until the race started. I like to do the majority of my hydrating right away, it just seems to work best for me. I met up with my Oiselle teammates and we rode the shuttle to the elite warmup area. I think I used the restroom 2 times before starting my warmup. One of those times, I went in directly after Shalane, and Amy Hastings went in right after me. That was probably the coolest porta-potty sandwich I could imagine (ew, that sounded gross)!
I did a 2 mile warmup, used the restroom again, and before I knew it we were headed to the start line. We all took our pre-race gels on the walk (I took a vanilla GU). I used the emergency single start line porta potty one last time, did a few strides, and lined up with my teammates. Our goal was to start off together, stay controlled, and work together as long as possible.
The race: Mile 1 was great, of course. Isn't it always? Allison, Allison and I came through in 6:06. Mile 2, I started to feel really hot (hello postpartum hormones!) but still doing ok. We came through in 6:07. Mile 3, I started feeling a bit claustrophobic because I was getting hotter. I dumped water on myself and drank some too. (I did this at every water stop throughout the race.) We ran 6:05. I was tucked in behind the Allisons. Mile 4 was my last mile with them. We ran a 6:04 and I needed to step back. I ran a 6:06 5th mile. My 6th mile was 6:10. I was starting to regret not having a gel to take during the race. Normally, I wouldn't take fuel for a race shorter than a half marathon, but I'm burning through calories like crazy while breastfeeding and I could have used some fuel. I assumed there would be Gatorade or something similar on the course but I only found water. I should have checked on that beforehand! Mile 7 was 6:12. I was just settling, trying to finish. Mile 8 (the big hill known as the Green Monster!) was 6:34. Mile 9 was 6:11. My last .3 was 5:48 pace.
Post race:
I finished happy initially. I had a great cooldown with the Allisons.
I met up with a friend from Seattle. I changed and chatted with some runner friends. But then the regret started seeping in. I ended the race feeling too good. I knew I conserved too much energy and didn't push the pace to my potential. I let little excuses and worries get the best of me during the middle miles when I needed to keep pushing! I got a little angry with myself.
I am fully aware that pacing and knowing how hard I can push is a weakness right now. I know I hadn't done the workouts to have an amazing race at Gate River Run, but I could have been faster. I know every race is going to hurt much more during this comeback than during a regular training cycle. I think it's similar to when a person starts running for the first time, or when they start running after an injury where they took time off completely without cross training. Everything feels bad. Running fast isn't carefree and fun yet, it's just uncomfortable! The body and mind aren't calloused enough to those feelings of pain. This is why you often hear runners say their faster races felt easier than their slowest races. When you are in great shape, a harder effort just feels better!
I have been thinking about my first postpartum comeback, approximately 4 years ago. Every race for the first 8 months after having my little lady felt horrible. I really thought about quitting and wondered why I even tried at some point during every race! I remember wanting to stop during a 5k because it just felt so hard and I didn't know if I could finish! Really, a 5k left me feeling that way, and I was training for a marathon.
Then one day everything clicked. I know it will click again. Until then, I'm going to be riding this pain train and probably be disappointed with some aspect of every race. But… I'm making a point to be proud of some aspect of every race as well! Despite the way the last few paragraphs might sound, I'm happy I ran Gate River and have a very positive outlook on the next few months of training and racing! I am feeling even more motivated to start some real training again!
I'll end with a few cool pics from the weekend: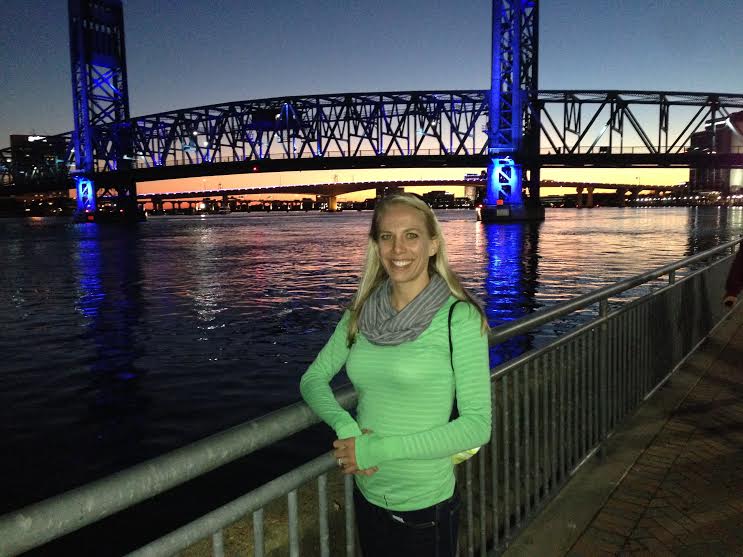 Thanks for following my journey!