Jeff, Currie and I all took part in the 1st ever Reindeer Run 5k in Rochester, NY. I have a feeling this race is going to stick around as there were 1278 finishers today. What a great turnout for a new race! Jeff was 4th overall, I was first female, and Currie ran her little heart out. We had a great morning!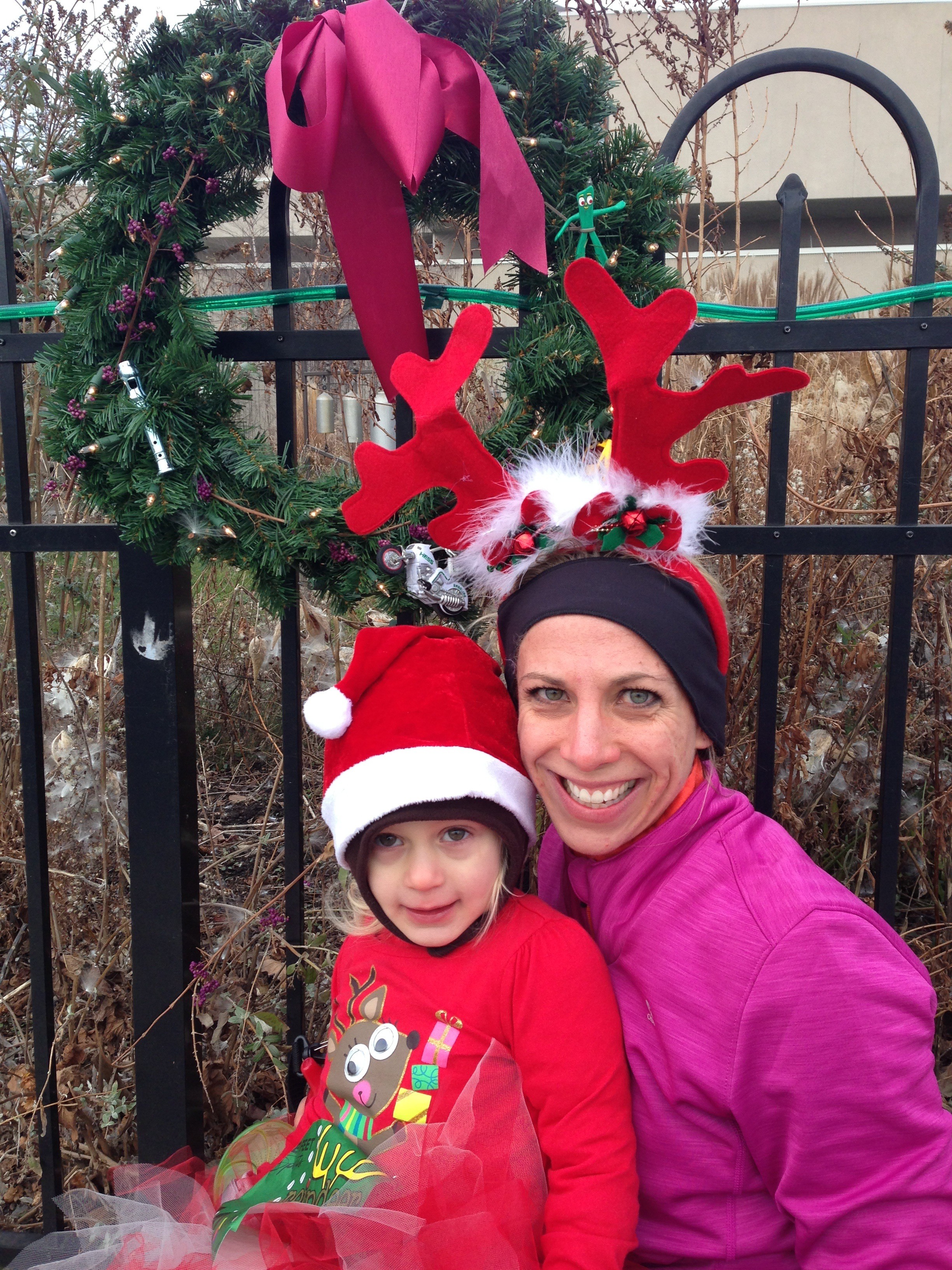 It was chilly, around 30 degrees, but no snow so no complaints from me! It was really good racing conditions for December in Upstate NY! We arrived at the race with about 40 minutes until race time. We got Currie and ourselves bundled up then went to find our friends who were going to watch her. We found them 15 minutes before the race started, dropped Currie off, and started our warmup. We only did about a half mile warmup before stripping down to our racing gear and heading to the start line. I didn't want to run more than 5 miles today so this was fine by me!
I've never done a Christmas-y run, so I've never attempted running in antlers. I got the only antlers I could find at the store yesterday and they were quite bulky as you can see in the pics. I thought it was going to be really fun and not bothersome at all. Turns out, I ran almost the whole race arms above head, holding them on. (On that note, I think only my arms will be sore tomorrow!) I would have taken them off within the first quarter mile, but the first male and female to cross the finish line wearing antlers won a pair of Saucony Kinvaras so I was going to keep those darn things on the whole time, even if I had to hold them there the whole race. Afterall, winning shoes (or money for shoes) is my "thing". I always say my race winnings support my running shoe purchases and they really do. I NEEDED those shoes.
The gun went off and I took off into the first female position. Sprinting felt strange, but good. The mile marker came quickly and I hit that about 5:40. My spot didn't change much the whole race. I passed a guy, he passed me back, I passed him back. Besides that, I was always in the same spot. The second mile seemed to take awhile, but at the same time, I was shocked to see the 2 mile marker so quickly. I think I was just getting annoyed with the antlers at that point. The last mile went by quickly and before I knew it I was heading into the finish line. I ended in 17:55, 9th overall, first female. I got my gift certificate for my free shoes and my "toy trophy".
After our 5k, it was 2 year old Currie's turn. She begged to sign up for the half mile race yesterday, and of course I said yes! She did great! She ran, hopped, pranced the whole way and came in towards the back of the pack. I have to say, I was proud that she passed at least 5 kids in the last 1/4 mile!

Way to finish strong little lady! Jeff and I took turns running beside her and taking videos/pics. Here's a little snippet of her finish:
Right when she was done, she said "Is there another kids race? I want to run again!" Do we have a distance runner on our hands?
Just under 2 weeks past California International Marathon and I'm feeling good. Now the races are slowing down for the winter and so am I. Back to easy running, 4-5 miles a day, continuing the marathon recovery.
I'm definitely glad I raced today and the whole family could join in the fun! Great day for all!