I ran my first race since baby #2 on Thursday. Wells was 2 months + 1 day old. I was 68th place overall, 4th female in 31:14, or 6:15/mile pace. Last year I was 17th place overall, first female in 28:19, or 5:40/mile pace.
As a side note, I ran my first postpartum race after Currie (a 5k in 18:09) when she was 5 months old. I almost puked and felt equally awesome and horrible. See pic below!
Back to the present: last week's first postpartum race was a 5 mile Turkey Trot in Columbus, Ohio which is about an hour from my in-law's house. I was probably more nervous/excited in the days leading up to the race than anyone else toeing the line at a Turkey Trot! Most people seem to run these races for fun… I was trying to get a good starting point for real workouts. I was unsure how I would feel, and was anxious to test my fitness.
On the drive to the race, the sky was gorgeous, and the temperature was a chilly 20 degrees or so, with winds less than 10mph.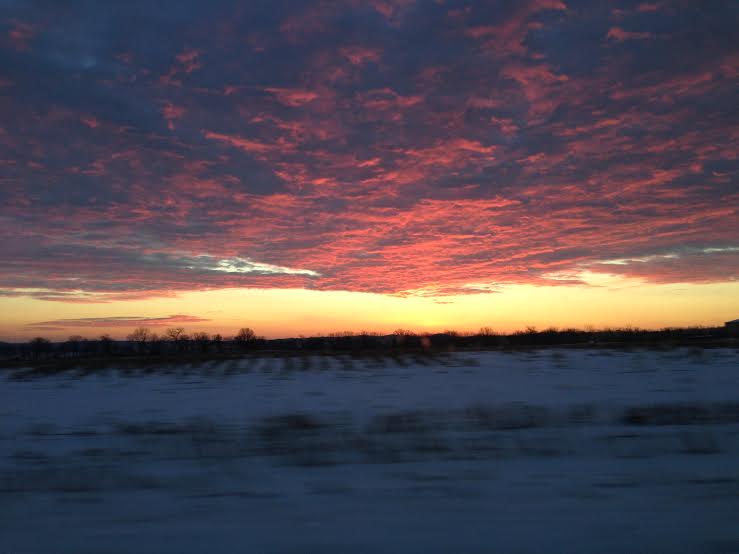 I bundled up – so many layers – and still felt a bit cold standing around pre-race. Long sleeve, singlet, vest, and 2 light jackets with one warmer jacket on top, fleece lined tights and warmup pants on bottom, heavy mittens and a headband to round things out.
Before long though, it was time to head to the start line! I did 4 strides and positioned myself in the second row. Then I looked behind me and saw my friend Casey from Rochester, NY! I also got to quickly meet and hug Molly who I've known online for awhile now. Both of these ladies pumped me up more than they realize! I ended up lining up right by Casey maybe 6 rows back (she should have started in row 2 because she's speedy) but we both stayed back.
The gun went off and we went out in what felt pretty comfortable. The first mile drops 100ft and I was shocked to see we ran 5:36-7 that first mile! Ah! (The course goes out, does a loop through Ohio State's campus, then comes back up the last mile to end where it started so the last mile is back up 100ft, on a long gradual uphill.) I got that sort of hollow feeling in my arms that mile, like I get when I'm either freezing and/or run a lot faster than I'm used to (Does anyone else get that hollow feeling?) and knew that would be my fastest mile! During this mile the girl who ended up in first place passed me and Casey.
Mile 2 feels downhill but I guess you go up and down so it ends up having no elevation gain or loss. I was 11:38 or about a 6:01 mile. I was still feeling pretty good. I let Casey go this mile. I knew she was in better shape and she didn't need to hang back with me. This left me in 3rd place female.
The third mile is another 20ft drop and I was 17:50 or 6:12 mile. At that point I started thinking a 5k sounded much better than a 5 mile…
I don't know the elevation for the 4th mile, but I was at 24:25 or a 6:35ish mile. I was passed by the girl who ended up 3rd female at the end of this mile.
My final time was 31:14, making my last mile 6:47ish. So obviously my body doesn't know pacing, and it was a long death march to the finish. Like I said in my last post, I didn't pass anyone at this race. Instead, I got passed by all sorts of people the entire race. Makes sense when I saw how much I positive split the race!
During the last mile, my arms and legs had a dead feeling and I was happy to know I was giving a great hard race effort. Could I have run a little faster? Probably… Am I 100% happy with my time? Well, I'm probably happier with this race than I've ever been with a race performance (aside from my 5k PR race). My goal was 33:00 and I thought on a great day I could run 32:xx. So, yes, I was pretty pumped!
Since the race I haven't been obsessing about what I could have done differently for a faster time like I usually do. I'm almost never satisfied with a race (always hungry for more attitude which I'm proud of!) but I'm satisfied with this one.
Post race, I got to see my friend Kathy (who ran at OSU with me) and my friend Casey again for a very brief moment. Of course I had to take a pic!
Then I went to Peets Coffee to "refuel" with an almond milk mocha as big as my head. Turns out if you tell a barista you want a mocha and don't mention size they choose the largest size for you.
As far as awards go, they were better than last year's trophy. For 4th place female, I got a trophy, a medal, a "Chase" embroidered fleece, duffel bag and water bottle.
I recovered from this race much better than expected. I was just a tiny bit sore for the first few minutes of my run the next day and felt completely better the next day for my long run. Now… it's time to decide what race will be next!
Hope you are having a great week and thanks for all the support!