So much to share, so little time! Let's get to it!
Seattle
We were in Seattle for a few days about 2 weeks ago. While we were there, Wells turned 5 months old!
And I got to see my Oiselle crew, and do my first double stroller run! It wasn't bad at all with my run-friends (and being on a flat paved surface at Greenlake). Photo below by Dr. Lesko!
I have since run around Squirrel Hill in Pittsburgh with the kids and realized it's much harder alone and on hilly courses! Nothing makes me feel equally unbelievably weak and unbeatably strong as pushing a double jogging stroller. I pushed Wells in the single jogging stroller the other day and couldn't believe how much lighter it felt. Even when Currie hops on the front of the single with Wells in the official seat (for short walks), the single is so much easier to handle!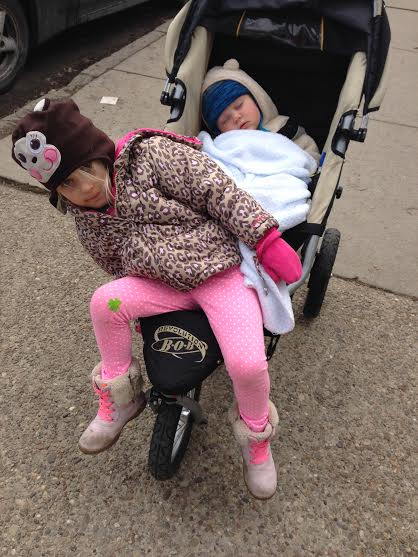 Pittsburgh and the Toenail
We arrived back in Pittsburgh and I lost my first toenail. I knew this was coming (sort of anyway) after I got a blood blister under my big toe during the 5 mile Turkey Trot. I wore the wrong shoes and paid for it that day and had a feeling the toenail would pay for it too. Sure enough, the toenail was ready to go, just hanging on by a sliver of nail. I'm sharing the disgusting toenail removal photos below:
Ohio
I had just enough time to unpack, do laundry and repack our bags before I left for Ohio with the kids to see my new nephew. Jeff was in NYC for work so this was my first time making the 4.5 hour drive alone. The kids were both perfect angels on the drive and I was thankful.
The night we arrived at my parents' house, after eating one of those meals that fit into the category of "things I would never eat the night before a race" my dad says, "did you know the Beer Bottle Open is tomorrow?"  The Beer Bottle Open is a 4 mile race in Columbus Grove which is about a 30 minute drive from my parents' house. My dad used to race it every year and I knew it was a fun race even though I've never done it myself. I immediately said, "oh man, really? Well, I'm not running it. I'm just going to finish this 4th piece of birthday cake." Translated: I AM going to run the race.
I got online and saw the race started at 2pm (my least favorite time of the day to run, as I always feel sluggish from 2-4pm). I saw the race was certified 4 miles and I'm a sucker for certified courses! I saw the cost was $12 and the course was very flat, like all the terrain where I was raised. I saw there was a $500 award for breaking the course record. I knew the course record was blazing because the area has produced a few professional runners. Sure enough, I found out I'd have to run 21:40 for 4 miles to get the cash prize. The rational side of me knew that was out of reach, and that I would be shooting for 24:00, 6 minute mile pace, if I ran. The irrational dreamer side of me said anything is possible and it's worth $12 to try to win $500! I also knew the top finishers received ceramic beer steins which is a fun, unusual award. I went to bed repeating to myself "you are here to see family, not run a race".
All night I dreamed of racing.
I woke up and thought about doing my workout for the day. My sister, her daughter and new son arrived and I was hanging out with them. My sister finally said "just go run that race, I can tell you are obsessing over it!" She was right. I needed to run the race. I started to gather my running gear and noticed I was missing a few things:
My singlet and racing flats – both essentials for normal race day, but since I didn't plan on racing I didn't bring either to Ohio. I like to do workouts in my training shoes, but always race in flats. Still, not a huge deal.
My running socks – over the past 7 months, I've become a little obsessed with my Injinji socks and I somehow didn't pack any running socks! Finding socks was easy enough problem to fix considering my parents have plenty of athletic socks but I worried about how my newly torn off toenail would deal without Injinji socks.
My SPORTS BRAS! I specifically remember packing them, but they must have fallen out at some point when I was packing. I had laundry all over the room so it would have been easy for something to fall out unnoticed. This was NOT GOOD. I've always needed sports bras to run, and especially now with breastfeeding boobs, the compression is a must! I couldn't run even an easy run without a sports bra! What was I going to do?! Mom to the rescue! She found some super old, stretched out sports bras from when I first started running. Yes, they were about 20 years old and not the most supportive, but mom had an idea. What if I layered all 3 of them? And then what if mom tied string around the back. Hey, it didn't look pretty but it worked!
The race went off at exactly 2pm, with light snow and wind. The first mile flew by even with a side/head wind and I clocked in at 5:47 pace. I moved from about 7th to 2nd female during that mile and enjoyed chatting it up with a few guys. During mile 2 we did a 180 degree turn and the wind still seemed to be a side/head wind. I passed a few guys that mile and gained on the lead lady running 5:55. Mile 3 was my hardest because I was alone with the wind on a country road. The lead lady gained distance on me as I ran 6:04. I came in the final mile alone, at 5:57 feeling strong. My official time was 23:43 which was right around where I wanted to be. I was second female, 12th overall. It's always fun to race and I'm so happy I decided to that day! It helped me realize that even when things aren't perfect (no sports bra, no favorite socks and toenail problems, bad pre-race meal, no racing flats, etc) I can still have a solid performance.
Future Racing
Finally, I'm excited to be running my first big race post-baby-number-two this weekend. It's the Gate River Run in Jacksonville, Florida (USA 15k Championships). The kids are off with Grandma and Grandpa and I miss them so much already but I'm excited to race such a speedy elite field this year! Click here for a little pre-race interview Oiselle did with me and my teammates racing this weekend.
I've also been accepted into the elite field for the Glass City Half Marathon in Toledo, Ohio and the Pittsburgh Half Marathon right here in Pittsburgh, PA! I have one more big race in mind for this spring, depending on how training shapes up so more to come on that!
Hope everyone is having a great week!