Oh wow! It's been a week since I last posted! That's what happens when there's a holiday and birthday party and I'm driving around Ohio trying to see everyone in my family.
Thanksgiving was great for us, so much fun with both the in-laws and my family! We ate things like this for 3 days straight:
Now we are back in Rochester and I'm trying to get unpacked and repacked since it's MARATHON WEEK!
The main point of this post is to give a little update on my racing. On Thanksgiving morning, I ran the 5 mile Turkey Trot in Columbus, Ohio. It starts on Lane Avenue near the running store Frontrunner and runs through The Ohio State University Campus, around Ohio Stadium and back up Lane Ave to finish where you started.
Given my running history you may assume I do a Turkey Trot every year, but this is actually only my second year of racing on Thanksgiving! I really enjoy starting the day this way and hope to continue racing a Turkey Trot every year.
I'm going to try to make this quick with some bullets:
Got to race an hour before start & immediately used porta potties. They were in the worst shape (dirty, wet floor) I've ever seen this early in the day. Got a laugh out of the graffiti (is this considered graffiti?) on the soap dispenser.
Felt awful on the warmup.
Saw an OSU cross country teammate right before the race started. We hugged and quickly took our places.
First 2 miles nice gradual downhill. Felt great, effortless. Also knew I had to do those same 2 miles gradual uphill at the end.
Kept passing dudes the whole race, was first woman from the start. Actually used some Believe I Am journal cues and they REALLY worked. More on this in another post. #ninjastars
Uphill didn't feel bad. I felt pretty darn comfortable the whole race, kept waiting to feel the real race pain. In hindsight, was upset I didn't run harder the last mile!
Finished 1st female, 28:19, 5:40 pace. I was 20th overall. I was about 40 seconds ahead of female #2. Got pie and a trophy plus a bunch of food.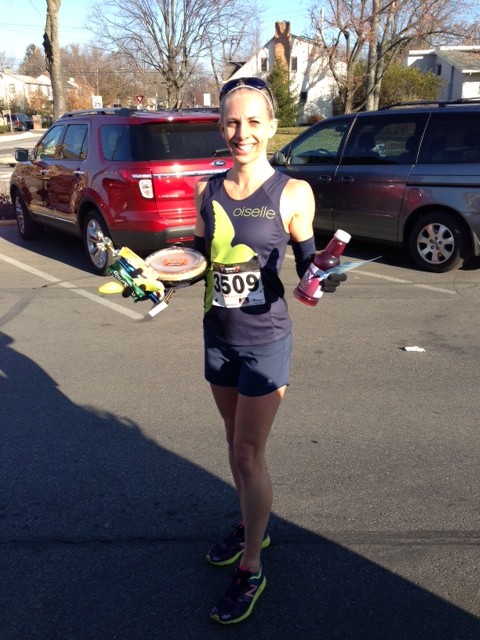 Oh, and immediately after I crossed the finish line, a woman from Easter Seals Central and Southeast Ohio took my picture for their Facebook page. I thought I should share my cold, yet sweaty, glory below.
Whole Foods was right across from the finish line so I went in to get my recovery started. I was excited to see Vega One. Unfortunately all they had in individual packets was Natural flavor. No thank you. I want to recover, but not enough to drink that straight up with water.
So I tried something new-to-me: Vega Sport Recovery Accelerator in Tropical flavor. Pukey-looking when mixed in bottled water, but ok tasting and did the job. Yes!
Went to coffee shop with Jeff.
Immediately had coffee (again) with a different friend who ran OSU cross country with me, at her house. Made my day!
Finally, it was home to shower, change and feast. I wore fitted clothing which is quite a daring thing to do on Thanksgiving!
So there's the race and my Thanksgiving in a nutshell!
Tell me about your Thanksgiving! Would you wear tight fitting clothing to feast? Any strange porta potty stories?