Wells is 16 weeks old! He's such a happy little guy most of the time. We are very lucky so far…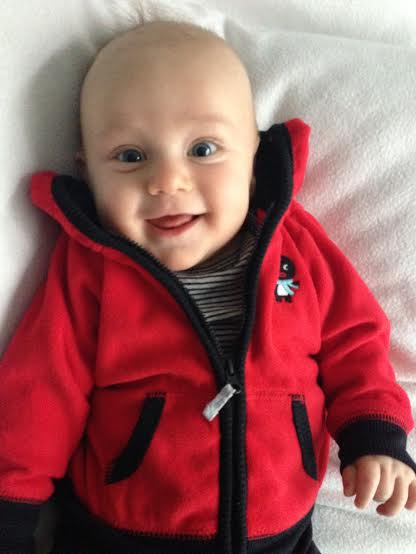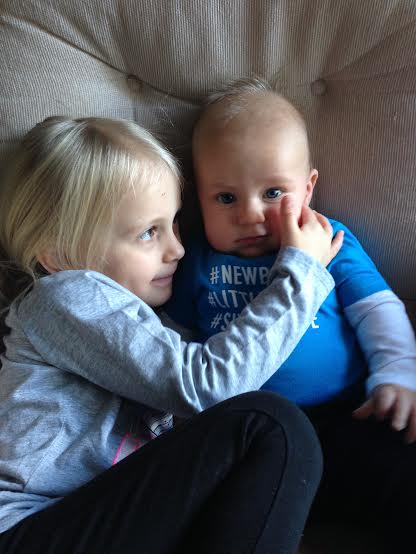 I've noticed my easy runs are feeling easier so that's been a big improvement. I'm excited for when my hard runs start feeling easier too! This was my first week where I did 2 workouts. They were much slower than I secretly hoped and I was much weaker mentally than I like to admit. I find I'm always weaker mentally when I'm out of shape. Reminds me of how my fastest races have always felt easier than my slowest races. I believe the closer I am to optimal shape, the better I feel mentally and physically. So, I know this mental slug will pass. I give myself little pep talks, because I remember being this way after having Currie. When you don't run fast for a long time and then you start back up, you can't expect to start where your racing and training left off. Doing 3 mile repeats at a pace slower than I used to do 8-10 of these repeats is hard to swallow. But, next time I do the workout, it should feel a little better. And in a few months, things will start to click. For now, I'm just rebuilding and feeling proud of the smallest accomplishments every day.
I have 4 big races planned and almost completely set in stone for this Spring. If you know me, you know I love to race and do it often. Most races are local races and then I have a few big ones each year (usually a 5k PR attempt, half marathon and marathon). For the big races I will do a taper (or at least a 2-day taper) but for the local races I will just train normally, with an easy day the day before the race. So, while I run every race hard, the local races won't produce my fastest times. The first "big" race I have planned is the Gate River Run on March 15th. It's the USA 15k Championships and I'm excited to be part of the elite field. It will be the first race where I wear my Oiselle Pro Kit! I will be joining at least 4 other Oiselle teammates for a fun weekend of racing and bonding. I'm very excited!
Now that I have that planned, I decided I would start doing my weekly pics in my Pro Kit! Sort of inspired my Lauren Fleshman's wildly popular "Keeping It Real" article, I'm posting one set of pics of me just standing normally, and another set of me flexing my nonexistent abs, standing with better posture, and smiling. You can't see my face, but I really was smiling in the flexing pics! So… here they are! 16 weeks postpartum:
Questions for you:
What do you do to defeat the mental slug?
Anyone else doing Gate River Run or have done it in the past?